With Wilson Deal Nearing Completion, What Now?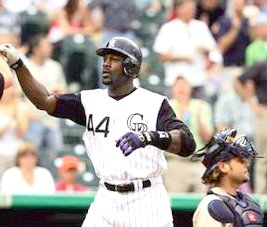 [July 13th] - Two months ago, word spread across the beltway that Nationals GM Jim Bowden was in active discussion with the Colorado Rockies for their star outfielder, Preston Wilson. At that time, Ryan Church was the Washington player most coveted by the Rockies. Church was hitting .169 at the time, but it was easy to see Church's talent buried deep beneath the Mendoza line. No. No way we could trade the future of the Nationals for a rent-a-player, and the deal died a quick death when Ryan Church began his hitting streak.
Today, sources tell Nationals' fans that the deal is about done, that Preston Wilson has all but packed his bags in preparation for his trip to Milwaukee for Thursday night's game against the Brewers. This time, the Nat's will be giving up J.J. Davis, an outfielder that couldn't hit anywhere but Coors Field, and Zach Day, a pitcher whose sinker is designed exclusively for Coors Field. Not a single player on the major league roster will be lost in exchange for a player who, even at sea level, can hit 13 homers and drive in 45 during the second half of the season. Ok. Now what?
The word is that Wilson will take Ryan Church's place in the starting lineup, making Church the 4th outfielder and burying Marlon Byrd even deeper. Uh huh. So although we didn't actually trade Ryan Church for Wilson, we end up losing his bat in the lineup anyway. what makes matters worse, we lose a contact hitter for a Brad Wilkerson twin, someone who is going to strike out 150+ times each year. Has any team started two players who struck out more than 320 times combined in a year? If this trade goes down, the Nationals will have just that.
Look, I'm not opposed to the trade. I'm opposed to who the trade replaces. Ryan Church will only get better with playing time. If we bring in Wilson, then let's trade Brad Wilkerson for some more pitching or a 3rd baseman who can hit during the 2nd half of the season. I'm all for player moves, but they have to make sense both today and in the years to come. Putting a guy who is hitting .320 on the bench for a guy who's hitting .260 doesn't make sense to me.