Bang.Zoom. But Don't Get Cocky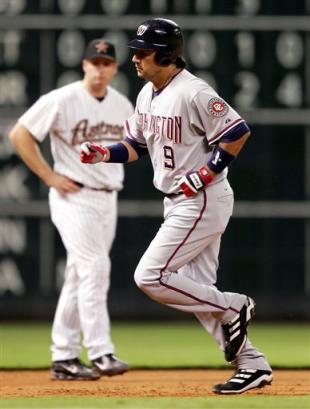 [August 9th] - Huh. It's got to be the park. Put the Nationals into a park with dimensions just slightly smaller than Jennifer Lopez and the players become professional hitters again.
Backed by home runs by Brian Schneider and Vinny Castilla and Brad Wilkerson and newcomer Brandon Watson, the Nationals withstood a strong comeback by the Astros and won 6-5. John Patterson wasn't exactly "on" Tuesday night, but he had enough to win his 6th game of the year. And that's fair. After getting all those "no decisions" while pitching well, he deserved a win when he wasn't at his best.
OK. Cristian Guzman. His lack of hitting is really starting to effect his fielding, making him a liability on both offense and defense. Frank Robinson and Jim Bowden have to take a deep breath and cut him loose. On the other hand, Vinny Castilla is beginning to hit again. Was that 3 month swoon due to a balky knee after all?
Great game. Do it again tomorrow and we'll Bang/Zoom all over the place.