Game One In The Bag, Nats Beat Rocks 4-2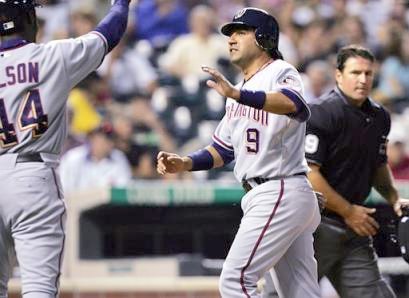 [August 12th] - The Washington Nationals beat one of the worst teams in the National League Friday night, 4-2.
The Nationals need to sweep the Rockies this weekend to keep their fledgling hopes for the post season alive. Hey, if you can't beat the Rockies, you don't deserve to be in the post season.
Esteban Loiaza again pitched brilliantly, giving up one earned run and only 5 hits, lowering his ERA to a season low 3.54 while winning his 7th game of the year. With a little bit of run support, he could easily have 12 wins, making him by far the best "value for the money" of all the Jim Bowden signees. Chad Cordero was "lights out" while earning his 38th save in what had to have been his sharpest outing of the season.
Offensively, the 4 runs came on only 7 hits. Jose Vidro and Jose Guillen each got 2 hits apiece in leading the Nats attack. Brandon Watson, after his hot start, has slumped the last two games, and is batting only .154, although that doesn't matter a great deal. Watson has shown a love for the game and is blessed with speed that D.C. fans haven't seen since Ed Stroud.
Cristian Guzman made another error, and while I can't say for sure if it was his aching tooth that caused it, something has to be done to make the position more stable. He's not hitting, and has now made errors in 2 of his last 3 games. Frank Robinson, when asked about his loyalty to the man with the worst batting average for a starting player in more than a decade, no longer says that Guzman is "the guy." If the Nats had someone ready in the minors, anyone, they would be given a trial right now. On the bright side, Ian Desmond, promoted to Potomac a few weeks ago, is batting .268 for the P-Nats and showing some power. He has raised his average a full 20 points since leaving Savannah. Third baseman Ryan Zimmerman has begun to dominate the Eastern League for the Harrisburg Senators. After his batting average dropped to .217 on July 13th, the former UVA star has gone on a tear, and is now batting .305 with 7 home runs and 26 RBI's.
The Nats have a good chance to win again on Saturday, as Tony Armas Jr. goes against Byung-Hyun Kim. These are the games that the team has to win if they have any chance of making us forget that slide from 20 games over .500 to just 4 over as of last night.