Nationals Again Becoming "The Little Engine That Could" Again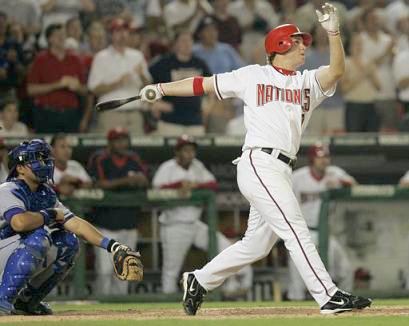 [August 4th] - Can someone explain to me what happened Wednesday night? That John Patterson pitched "lights out" again wasn't the amazing part. He's done that his last six starts, amassing a microscopic 0.90 during that span. No, it was the offensive production, particularly the grand slam by Brad Wilkerson that finally gave the Nationals a cushion large enough to win with ease.
John Patterson, who pitched only the second Nationals complete game of the season, allowed only 4 singles in 9 innings, walking no one and striking out 13. It was perhaps the most dominating game that any Nationals pitcher has thrown this year. His ERA is now down to 2.42, about as good as it gets for a starting pitcher these days. Patterson is one of the few Nationals that deserve a long term contract when the season is done.
Crisitian Guzman has put together a nice little batting streak, raising his average from .181 to .193. He did this one other time this year, however, and we should be very wary before assuming that he's finally, finally [finally] out of his season long slump. Nick Johnson got 3 hits and Preston Wilson 2; Wilson has his batting average almost back up to where it was when he joined the Nationals last month.
The Nationals have now won 3 out of 4 and have begun the long and arduous climb back up the standings. Remember, however, this was the first game where the offense produced anything at all, so let's not assume that the Braves need to begin watching their backs. But they're winning again, and all that "finding ways to lose" part of it seems to have subsided. I guess if you have to hit a difficult period in a long baseball season, the middle is the best place for it. Fans are excited in the beginning, and again in the end. The middle is soon forgotten.