Nats Offensive Woes Continue, Lose 3-2 To Padres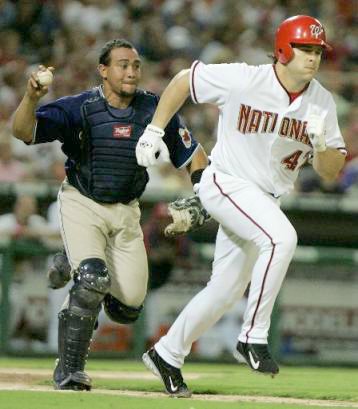 [August 7th ] If something doesn't change soon, the entire Nationals' starting lineup will end up in Milwaukee. A day after Livan Hernandez threw his glove, jacket and hat into the stands after being lifted from the game by manager Frank Robinson, Ryan Drese threw his own little tirade in the dugout after being removed in the middle of an at bat. "No, that's never happened to me before" said the contrite Drese after the game.
Too bad. Drese has shown that he is the "Mr. Hot or Mr. Cold" of the pitching staff -- either he is Dr. Jeckyl or Mr. Hide. Robinson believed he was about to change into the evil Mr. Hide right there on the mound, and pulled him before he could do any more damage. He pitched well enough to win, but also bad enough to get pulled as he did.
Perhaps the Nationals weren't past the losing streak after all. After winning 3 our of 4 games, they have lost two straight one run games, making it 13 one run game losses in a row. This doesn't concern me a great deal, because after winning those 14 straight one run games, things had to even out. So much of the Nationals "first half" was not natural for a baseball team. Not able to score any runs, with no offensive production whatsoever from 3 of the 8 field positions, the Nationals nonetheless reached a season high 20 games over .500. Although I reveled in their success, I knew it was just a matter of time before a correction occurred -- it just had to happen.
The rest of the season is wholly dependent on how this team reacts to the difficult times they've faced recently. As long as pitchers are throwing tantrums, the Nationals will have a difficult time pulling out of this steep dive they are in. Sure, it's nice that Vinny Castilla finally hit another home run. And sure, it's great that Cristian Guzman is beginning to hit again. But for the second game in a row, the Nationals got 5 hits as a team. Over 18 innings, they have gotten 10 hits and given up 27, yet only lost by two combined runs. If the Nationals had even an "average" offense, there is no doubt in my mind that the team would still be in first place. But with this kind of continued offensive production, and with no possibility of change in sight, they are going to continue to have difficulty winning games.
And it's not going to get any easier, as Padres ace Jake Peavy goes against Esteban Loiaza this afternoon. Cross your fingers, and let Frank know if you can hit a curve ball -- he may give you a call... "Now batting, from Section 405, row 11, seat 10, ...."