Things Back To Normal, Nats Lose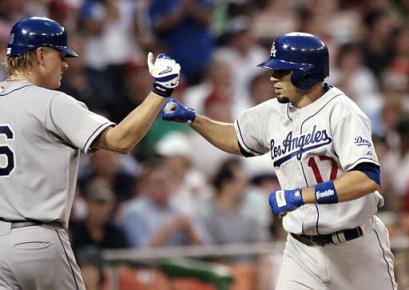 [August 2nd] - The Washington Nationals scored 4 runs against the Los Angeles Dodgers Tuesday, a veritable offensive barrage, but it wasn't enough as the Los Angeles Dodgers beat the Nats 5-4. Washington scored 2 runs in the 9th to make it interesting, but in the end, the lack of a consistent offense doomed the team yet again.
The team's performance is taking us to the point where we again have to start looking for positives in an overtly negative situation: Jose Vidro got three hits and looked more like the former Expo all-star and less like the injured, sub-par 2nd baseman he's been this year ... Brian Schneider got two more hits and raised his average to .284, third highest on the team ... Cristian Guzman got another hit, a sign that he does have a pulse.
On the negative side [don't worry, I'll keep it short], I'm beginning to worry about Ryan Church. Preston Wilson isn't hitting very much and Church is playing like a guy who either has lost his confidence or his mad at the situation, both understandable feelings.
I'd love to see Ryan Zimmerman be given a chance in September to see how close he is to playing at the major league level. After seeing his batting average drop to a season low .217 in early July, the UVa. alum is now batting .296 and playing a great all-around third base. Jim Bowden said he's ready defensively; how much worse could he hit than injured and aged Vinny Castilla? Now is the right time to test all the spare parts and see what the team needs to be added for next year.
Hang on, it's going to be a rough ride for a while longer.
Comments:
Even if we bring Dutch up in Sept., it still starts his arbitration clock, right? If that's the case, I don't think it's worth it. Why lose a year of arbitration eligibility just to see a guy who we already know is good? I say wait till next fall.
Post a Comment
Links to this post:
<< Home