Down, But Not Out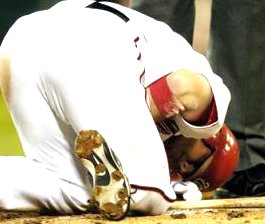 [October 1st] -- I'm trying to think of something interesting to write regarding the Nationals' 4-3 loss Friday night to the Philadelphia Phillies.
But I can't.
Livan pitched well enough to win, but didn't. The Nats almost came back to tie the game in the 9th, but didn't. Several players almost got a 2nd hit in the game, but couldn't. It was one of those nights. Everyone played "ok" but no one played "great." It was just "one of those losses." I guess the highlight of the game was Marlon Byrd, whose power display since returning from New Orleans continues to amaze. Byrd doubled off of Billy Wagner and raised his average to .269. Endy who?
The Nationals now sit at 81-79 with two games left. The team only has to win only one of their three remaining games to finish with a winning record, but that isn't much to play for when compared to the Phillies, who are now only one game behind Houston for the lead in the wildcard race. It's going to be difficult for the "boys" to pull one of these last two games out. Tomorrow night, John Patterson goes for his 10th win against Brett Meyers, who has pitched "lights out" in two of the three games he's started against the Nats.