Gut Jobben, Heir Zimmerman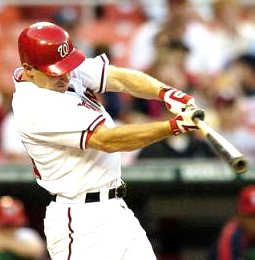 [September 24th] -- As the Nationals continue their season ending slide, it is becoming obvious that the team will end somewhere at or near where most of us hoped the team would be -- at or near .500. Gone are those heady days of early July when the Braves were the closest team to the first place Nats, and even they were 5.5 games behind major league's newest wunderteam. Alas. No more. And, no sweat. Would we as Nats fans have sold our baseball souls for a .500 finish back in April? You be we would have. And I still would today.
Ryan Zimmerman is beginning to scare me. After getting three hits two nights ago, he did it again Saturday night, raising his average to an unbelievable .483. Dare I even mention his slugging an on-base percentages? Yes, I guess I do dare. Going into Sunday's game against the Mets, Zimmerman has an OBP of .467 and a SLG average of .690. Those types of numbers are usually associated with a man named Bonds, Barry Bonds. Wow.
Rick Short tore his labrum while diving for a ball Friday night and will have surgery to repair it soon -- he's done or the year, and doctors suggest he may still be questionable when spring training rolls around next February. How sad, because the Nats were going to work with Short all off-season to help him improve his fielding so that he could cement a spot on the roster next year. Hopefully, he'll still have the opportunity.