Having Swept The Mets, Nats Head West Still In Wildcard Hunt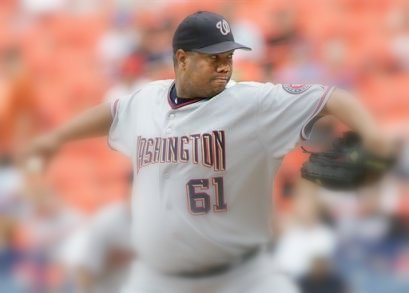 [September 15th] -- First, I'm pleased to be back. After two months of dealing with family matters more pressing than the Nationals [and that says something], I'm now able to turn my attention once again to Washington baseball.
I had the chance to watch Thursday's game against the Mets on ESPN, one of only a dozen or so games I've had the opportunity to see here in Idaho. Gary Thorn spent much of the broadcast poking fun at the anemic DC offense. After scoring three runs in the top of the first, Thorn said, "And that, ladies and gentlemen, will be the entire offensive output for the Nationals today." Ha-ha. Problem: the Nationals who continually are berated and chided for their poor offense are currently five games over .500 and sit only 2.5 games out of the Wild Card lead. Make fun of the Nats all you want: they are EIGHTEEN teams in the major leagues who would gladly exchange their more potent offenses for the Nationals 76 wins. The Royals have a better offense and have won 48 games this year. The Rockies have a tremendous offense and have won 59. For better or worse, this is a team built on pitching and defense.
The Nationals begin a three game series tonight against the first place San Diego Padres. The Padres are 72-73 and in first place in the National League West. The Nationals are 76-71 and are in fourth place in the National League East. The Padres have spent the year playing teams in their division that are a combined 68 games under .500 while the Natinonals have faced divisional rivals who are a combined 35 games over .500. That's a 103 game swing between the two divisions.
Going into the 2005 season, there was no question that the Nationals had an "uphill climb" in trying to compete in the NL East. And we were right. But I'd much rather be a fan of the fourth place Nationals tonight than the first place Padres.
This year wasn't about winning a division, or even competing for a wild-card berth. It was about being competitive. The Nationals need only to finish the season 5-10 to end up at 81-81, a tremendous improvement over last years 65-97 fiasco in Montreal.
And this great improvement came with no offense to speak of. Imagine what things will look like next spring with the new owners and their deep pockets.