Holy Hector! Carrasco Bids For Rotation Slot in 2006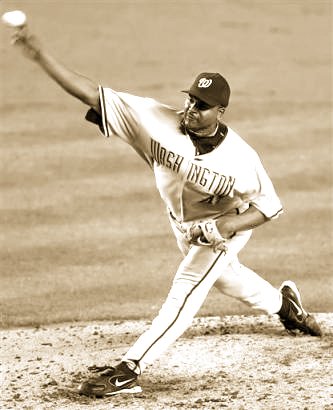 [September 25th] -- Hector Carrasco is THE MAN, and he hopes to be one of THE MEN when the season starts next spring.
Carrasco's start against the Mets September 13th was only the second of his career. Since that night in New York, the 35 year old has been near perfect. Over his last four starts, Carrasco has pitched 21 innings, giving up just 12 hits, 2 runs and has struck out 23. His ERA, which was a good 2.19 as a reliever, is now a microscopic 1.73 since he joined the starting rotation. All of this is because pitching coach Randy St. Claire taught him a quality change, something he never had to go with his 90+ mph fast ball.
Ryan Zimmerman, a night after returning to the real world where rookies are embarrassed by major league pitchers, rapped out two hits, one a double and drove in the second run of the night. Zimmerman's batting average is back up to .421 after dropping near the "Williams" line last night [that would be .400 hitter Ted Williams]
rapped out 3 more hits, "raising" his average to .215, and with the exception of that mental lapse yesterday in the field, he has been playing like Jim Bowden and the rest of us thought he would. I have this "gut" feeling that if the team stays with him next year [and there is no one in the system to take his place], he just might give the Nats their money's worth.
I still believe that the Nationals will end the year above .500, and will have provided their D.C. fans with much joy over the months.