Nationals Turn 80 In Miami [Wins That Is]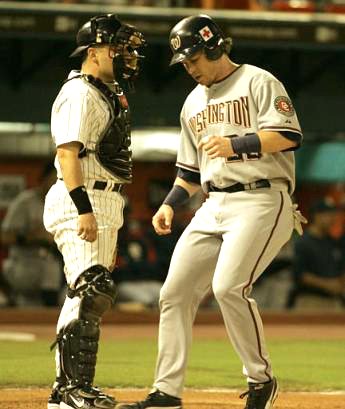 [September 28th] -- Just one more game. Last spring, before the first pitch was thrown, before the first long winning streak excited the city of Washington and the first long losing streak frustrated it, most of us would have traded some small portion of our soul for an 81 win season. After all, that would represent a 14 game improvement from what the Expos accomplished the season before. Well, just one more game. With 4 games left, we could see the Nats end the year with 84 wins. Not possible you say? Well, what chance did we give the "boys" against Dontrelle Willis on Tuesday night? Right?
When you have a team that has no real stars, every player has the chance to be one, if at least for just one night. Tuesday, it was Marlon Byrd, who went 4-5 with a long home run over the left field wall. Byrd was a slap hitter his first stint with the big club, but has developed some real power since his "vacation" in New Orleans over the summer. Cristian Guzman is also continuing his renaissance, getting two more hits and raising his average to .217, and is showing that maybe, just maybe, he'll do OK next year if the team gives him the chance. Ryan Zimmerman is continuing his hot hitting, getting two more hits including his 8th double of the year. Man, this young man is going to a special one. Vinny Castilla has already said that he's not going to sit on the bench next year, that he's here to start. My guess is that he's going to get traded to a contender to give that team some added infield depth.
I have read in many of the Nationals' blogs that this has been a disappointing year. Nah, it's been a great year. Give the team a little bit of health and they win 85-90 games. My, it's fun to be part of the Nats nation.