Stick A Fork In Nationals' Playoff Hopes -- They're Done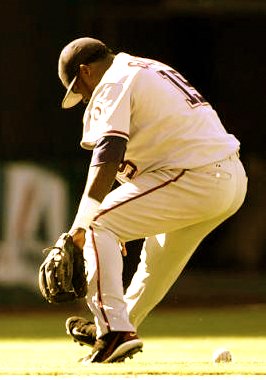 [September 17th] -- Joey Eichen didn't just throw the ball away in the 9th inning against the Padres Sunday afternoon, he threw away any hopes of a D.C. post season as well.
Less than 24 hours after losing to San Diego on a grand slam in the 9th and a 3 run blast in the 12th, the Nats lost again, this time on an infield single, a hit batsman and an errant throw on a bunt attempt. No ball left the infield this time, but the end result was the same: A painful loss.
Yes, the Nationals already slim play off hopes are now gone. They are 4.5 games behind Houston, with fellow Eastern division rivals Florida and Philadelphia ahead of them -- and leap frogging 3 teams in two weeks is virtually impossible.
So, what now? Real Nationals fans will look at the season as a whole, and be very excited that the team won more games than they lost their first year in Washington [trust me, they'll do just that]. Memo to Frank and Jim: NOW IS THE TIME TO PLAY RYAN ZIMMERMAN AND THE SLEW OF KIDS GATHERING SPLINTERS ON THE BENCH. Thanks for the effort Vinny and Cristian, but we need to see how these kids can play. And based on your play during the second half, they're probably going to produce more than you. Let's see if Kenny Kelly or Brandon Watson can be a major league lead off hitter. Preston Wilson was brought in to help us get to the playoffs. Now that we're not going to be playing in October, let Preston rest his aches and pains and give the kids a chance. Can Jay Bergman be a starter at this level? Let's find out.
Thanks for a great pennant run, boys, and I'm proud that you stayed with the "really" talented teams for this long. But now is the time to begin tinkering for next year. Ah next year. New owner. More money. Free Agents. And Ryan Zimmerman
My, what a fun off season it will be.