Nats Mound Woes Overblown & Overstated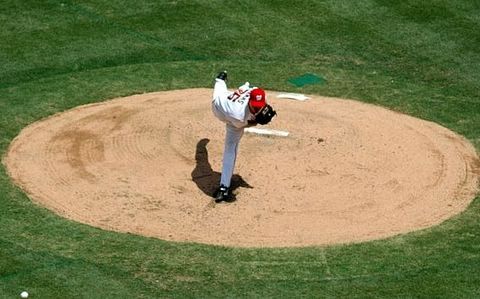 [October 22nd] -- Since the beginning of the Nationals' "great slide into oblivion" the mound staff has been pummeled by both the media and fans alike as the culprit for the team's "first to worst" downward spiral. They say that getting rid of Tomo Ohka and Zach Day because manager Frank Robinson didn't like them culled an already thin starting rotation. Well, yes ... and no.
The Nationals pitching staff crafted the 4th best ERA in the National League. But injuries to Zach Day, Tony Armas Jr., T.J. Tucker, John Patterson, Ryan Drese, Luis Ayala, Antonio Osuna, Joey Eischen, Francis Beltran and others made it seem that the staff was perpetually thin. Going into 2006, the pitching staff has only a few spots open to competition. Barring any major trades or free agent signings [neither of which are likely], this is how the pitching staff should look next April:
Livan Hernandez [15-10 ~ 3.98] The 30 year old veteran is signed through the 2007 season, and will likely fulfill his contract with the Nationals. Hernandez is an innings eater and solidifies the top of the rotation
John Patterson [9-7 ~ 3.13] Patterson was the most sought after player on the team's major league roster in 2005. He is cheap [$332,000 last year] and is not eligible for free agency until the 2008 season at the earliest. Patterson will likely become a dominant pitcher in the NL for years to come.
Esteban Loiaza [11-10 ~ 3.77] Loiaza is the "wild card" in the pitching staff. He is a free agent and will command attention from many teams this winter, but he has indicated he wants to return to the Nationals. He'll earn far more than his 2005 salary of $2.9 million, but he'll be worth it.
Ryan Drese [7-12 ~ 5.78] Drese posted a solid campaign in 2004 with the Rangers, going 14-10, 4.20. His 2005 season went from bad [see his stats] to worse when he injured his elbow and was sidelined for the season in August. He's 29 and has dynamic stuff. He could win 15 games or he could get clobbered again. With Drese, it's hard to tell. But at 29, he still has time to mature into a quality pitcher.
Hector Carrasco [5-4 ~ 2.04] Carrasco went from minor league has-been to effective starter in less than six months, and has earned the opportunity to compete for a slot in the rotation next season. Carrasco, 36, has told anyone who'd listen that he wants to be a starter next year. I think he'd do well in the number five slot.
Joey Eischen [2-1 ~ 3.22] The 36 year old missed two months with a broken bone in his arm, but is 100% right now. Eischen is the designated "Hey, you go get that lefty out" pitcher on the staff, and does a fine job at it.
Jay Bergman [2-0 ~ 2.75] Bergman's stuff and his age [he's only 24] may place him in the rotation one day, but for now, he's very good at long relief. He's a great strikeout pitcher, fanning 21 in only 19 innings in 2005.
Gary Majewski [4-4 ~ 2.93] Although he's only 25, Majewski pitched like a veteran last season. He was equally able to get out a tough right-hander or pitch four innings of solid long relief. He was one of the team's most clutch relievers in 2005.
Luis Ayala [8-7 ~ 2.66] Along with Majewski, Ayala ate up a great majority of the Nationals' middle relief innings. He is 27 and will be a stalwart in the pen for years. He isn't eligible for free agency until 2008
Jon Rauch [2-4 ~ 3.60] The 6'11", 27 year old will likely find his way into the starting rotation at some point in his career, but for now, his imposing size and good location will help the team in long relief.
Chad Cordero [2-4 ~ 1.82] The Chief ... 'nuff said. Cordero is only 23 and has 62 career saves in a little more than a season and a half as a professional. If he stays healthy, he'll likely set the all-time record for most saves in a career.
This is a solid if unspectacular pitching staff. If Ryan Drese comes through, or if the team signs a lower-end starter through free agency [someone like Paul Byrd], the Nationals could win 85 games next year. If they add some offense, they could close in on 90 victories in 2006.
Either way, the pitching staff is solid.