With The Season Done, Now Begins The Fun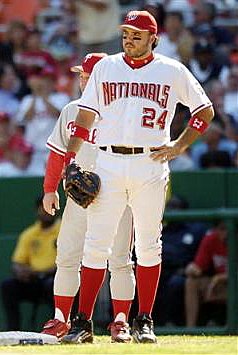 [October 2nd] -- The game was meaningless. Oh sure, it would have been fun to say that the Nationals had a winning record in their first season in Washington. But they didn't. They did win 81 games, and saw an improvement of 14 games over 2004. The season ended the same way it began, with a blowout loss to the Phillies.
So, how'd the season go? Very well. Very well.
Did the first half of the season [50-31] reflect the talent of the team, or did the second half [31-50]? As always with a .500 team, somewhere in the middle. Some of the players played better than expected, some worse. Others were "just about right" Some Nationals should return in 2006, others won't . They Nats finished in last place, but had a better record than 15 other MLB teams.
What's a fan to do?
There are many hopeful signs for 2006, and plenty of reason to be happy and proud of their 2005 effort. I love the Ryan's, Church & Zimmerman. John Patterson and Chad Cordero are studs. I'm not sure about Nick Johnson and Brad Wilkerson. Over the off-season, I'll be publishing as much, perhaps more than I did during the season. New owner. New free-agents. Big trades. New manager? Probably. I'm ready to begin a new site, Nationals Farm Report in a few weeks.
If we get a REAL owner with REAL money, we're ready to make a move next year. It's going to be a fun off season.
Again, congratulations to the boys. You done us proud.