Brad Wilkerson A Good Player, But Not A Good Fit In D.C.
[November 10th] -- I'm too angry at Bud Selig and Major League Baseball to discuss the off again, off again sale of the Nationals. Baseball doesn't care that it has all but ended any hopes of improving the team from outside the organization this fall, so it's time to stop worrying about it and look from within.
It's "Brad Wilkerson Day" at the Beltway Boys.
The moment after D.C. Mayor Anthony Williams shouted, "Baseball is back in Washington!," many of us grabbed our Baseball Encyclopedias and began researching just exactly what kind of team was coming to Washington. The only player other than Jose Vidro that impressed me was Brad Wilkerson. His 2004 line looked like this:
AVE: .255 - HR: 32 - RBI: 67 - OBP: .374 - SLG: .405
Overall, it looked like a pretty good season, a spring-board to bigger and better things in Washington in the coming years. I thought that the added stability that the relocation would provide would help Wilkerson blossom in 2005. it didn't happen. He batted only .248 - 11- 57 - .351 OBP - .405 SLG. for the Nationals last season. His season was worse than his numbers might indicate. Wilkerson seemed to always be on base with runners in scoring position. Whoosh - strike one. Whoosh - strike two. Whoosh - strike three. Back to the dugout.
Looking more closely at his career statistical splits, some very disturbing numbers came to light. While Wilkerson hit .275 at Olympic Stadium the past few seasons, his average dropped to .246 on the road. His average on turf is .270 and .246 on grass. This year, away from the controlled environment and fast turf of Olympic Stadium, his home average dropped to .236. Making things worse, Wilkerson has had difficulty hitting right-handers. In 2005, he batted only .228 against righties and .296 when facing left handers.
At home, and against right-handers, Brad Wilkerson doesn't do anything to help the Nationals offense. No question he lights up lefties, but he doesn't see them enough to make a difference. In 2005, for example, only 28% of his at-bats came against southpaws.
Wilkerson has struck out once every 3.8 at-bats, very high compared to the overall team ratio of 5.2 : 1. Some say that "an out is an out," that it really doesn't matter if you strike-out or pop-out. That's just not right. Late in July, the Nationals were playing the Braves. Washington had runners on 1st and 3rd and one out. Wilkerson struck out on three pitches. A fly ball, however, would have scored a run. So would a slow grounder to short. Or a ball back to the pitcher who threw it into centerfield for an error. Or a bad pick-off attempt. Or a mis judged fly ball lost in the sun. When a player strikes out, there is no chance for runners to advance, no chance for something positive to happen. Hit the ball somewhere, however, and good things can happen.
For the Nationals to be a winner consistently, they need to field consistent players. Brad Wilkerson is an all-star when he plays in Pittsburgh or Philadelphia or Denver when they're is a left hander on the mound.
[But that happens only 32% of 50% of the time. Wilkerson is a tradable commodity and plays out of position in Washington. He's not a leadoff hitter, and he's having trouble playing in a stadium with deep fences and real grass. Where could we trade him? Well, Houston needs offensive help and has a pitching s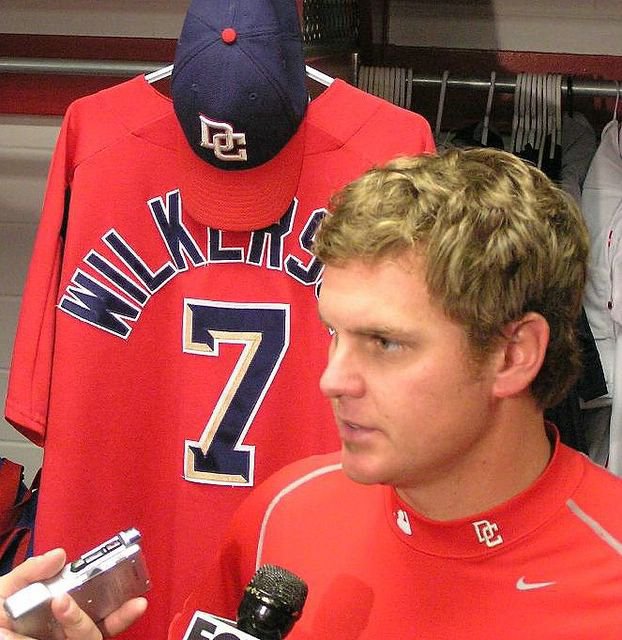 urplus. He would probably be a great fit in Minnesota too.
It's not that I don't like Brad Wilkerson. Teams like the Nationals, teams made up of spare parts, can't succeed with players who produce only in certain select circumstances. Bud Selig and the owners have ensured that the team will not compete in the free agent market this season, so the only option is to fix problems from within. Let's give Brandon Watson a chance at the leadoff position. Maybe Ty Godwin can make a difference. The offense will be much better in 2006 just by fielding eight healthy players, so the team can afford to trade Wilkerson's on again, off again bat.
Brad Wilkerson has peaked. This is the best that it gets. Now's the time to move him to a place where he can thrive, and in return get some much needed pitching. That's a win-win for everyone.