Jim Bowden: Pick Fick!
[November 7th] -- He played 28 games at catcher and 29 games at first base. He trolled the outfield for 19 games and even filled in at 3rd base.
And he's a free agent.
When The Atlanta Braves were searching for a first baseman following the 2002 season, manager Bobby Cox got a call from a friend in the American League. "Robert Fick," the friend began, "plays baseball the way you did. He's scrappy and fights every moment he's on the field." The Braves signed Fick, who went .269-11-80 for Atlanta, good but not good enough for a first baseman. He was signed by the Padres the following season, and promptly had the worst year of his career. After being cut by San Diego, he was signed by the Devil Rays, the only team that wanted him. Talk about a career ender. He never gave up, however, and was resigned by the Padres in 2005. In 93 games, the 30 year old batted .265 with 3 homers and 30 RBI's.
Fick was the backup at FIVE different positions. He hustled, he dove for ever ball, he ran to first base when he walked, and was a team leader from the bench. Fick earned $450,000 in 2005, and could earn $1 million next season, a figure that easily can be worked into the Nationals salary structure for 2006.
The Nationals are maturing as a team, and need to rid themselves of the older, worn out players that rode the bench in 2005.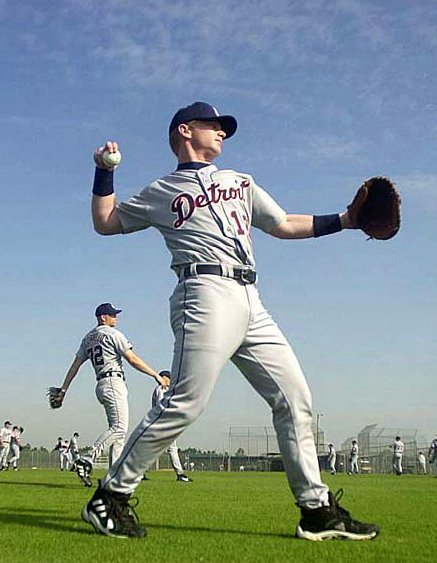 Fick is [relatively] young, healthy, and gives new meaning to the term "utility player." With newly acquired Damian Jackson and Fick, Frank Robinson could make almost any lineup move during a game and not worry about running out of position players. The two of them can play every position except pitcher.
The Yankees and Cardinals build from the top down, signing high priced free agents and then filling in backup positions with whom ever they can find [This explains the Cardinals signing Expos/Nationals castoff Einar Diaz as their backup catcher]. The Nationals, however, must build from the bottom up, signing high quality, versatile players who can make a difference coming off the bench. Robert Fick is just that kind of player.
Let's hope the Nationals sign Fick before the rest of the league gets wise.
Comments:
I like the comment you wrote in today's Baseball Musings Website about the Nationals & MLB owners.
So I decided to checkout your Blog.
And I'm glad I did.
Robert Fick would be proud...
GREAT WEBSITE!!
Keep it up,
Backwards K
Post a Comment
Links to this post:
<< Home