He's No Jimmy Stewart, But Mr. Soriano Goes To Washington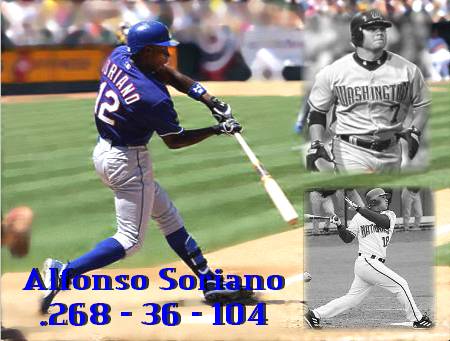 [December 7th] -- It's a "blockbuster" alright.
After having to rework the deal a couple of times Wednesday evening, Nats' GM Jim Bowden traded Brad Wilkerson, Terrmel Sledge and a player to be named later [likely pitcher Armando Galarraga] to the Texas Rangers for all-star Alfonso Soriano.
Because the team wants Soriano, a second baseman his entire career, to play left field in D.C., there will likely be another shoe dropping shortly. Ryan Church no longer has a place to play and will likely be traded for pitching.
First, the players we lost: The franchise has been waiting for Brad Wilkerson to "mature" as a hitter for years. The team wanted him to stop chasing bad balls and make more contact. With the exception of his 2004 home run production, his stats have remained steady and unimproved since his first season in 2001. He may very become a great player, but the Nationals ran out of patience waiting for it to happen in Washington. Terrmel Sledge is the 'wild card' in this trade. I've always liked him, and think that he could easily produce .270-20-80 type seasons for years to come. At worst, he'll be a quality fourth outfielder for the Rangers.
Initially, the Rangers wanted Wilkerson and either Kory Casto, Luis Ayala or Colin Balester. Bowden [rightfully] was unwilling to part with any of those players. By adding Sledge, the Rangers were willing to take a lesser prospect [6-8, 3.80 in 2005 playing for Potomac & Harrisburg] in Gallaraga.
Coming East is former Yankee Alfonso Soriano. Soriano joined the Yankees after playing four seasons in Japan. He became a starter in 2001, and has been one of the top run producing second baseman in the majors since. Last Year, he hit .268 with 36 homers and 104 RBI's. He stole 30 bases. That's the good stuff. Now the bad. Soriano strikes out almost as often [125 in 2005] as Wilkerson, but with a much lower on base percent [.309 in '05, .320 for his career].
Soriano is a line-drive hitter who drives the ball in the gaps and uses his speed to turn singles into doubles.
He hit 43 doubles last year. He has no plate patience and tends to swing at bad pitches too often. But don't get me wrong; the guy is a star. He was traded [almost] straight up for all-universe shortstop Alex Rodriguez two years ago. He's still fairly young [29] and is coming into his prime.
Why is Soriano going to play in the outfield in Washington? Because he's led all American League 2nd baseman in errors for the past four seasons. This may become a problem. The Rangers "asked" him to move to centerfield after acquiring Soriano two seasons ago, and he balked. Big time. I doubt he's going to make this move happily.
This trade is a big gamble for Jim Bowden. Soriano, who made $7.5 million in 2005, is eligible for arbitration this year and will become a free-agent after the 2006 season. Will he be signed quickly, or could the Nats lose two starters for a "one-year wonder?" I'm guessing that Bowden believes that a new owner will be willing to sign Soriano, now the team's biggest star, to a long-term contract before he has a chance to flee.
I hope that foxsports.com is wrong when it said that the Nationals "have finally found their speedy leadoff hitter that they have been craving." Repeat after me: .309 on base percentage. No, he belongs in the number three hole, protecting Jose Guillen and giving the Nats a strong middle-of-the-lineup. He batted in the leadoff spot about 100 times last year with a .301 on base percent. Yuck. He did much better deeper in the lineup. Another concern is the disparity between home and away stats. He batted .315 at home, .225 on the road. And we all know that the Rangers home park is a band box.
I'm just not sure how I feel about this trade yet. It may take a day or two for it to sink in. If I knew that Soriano was going to be with the Nationals for the long haul, I'd be pretty happy I guess. But I'd hate to lose Wilkerson and Sledge if we lose Soriano next fall [and who know, we might not have an owner in place by then].
Read the take on the trade here in this link from the Dallas Morning News.
Now, Bowden will look for pitching. In an interesting move, the team offered arbitration to Tony Armas Jr., who likely isn't getting much attention this week. Will the team bring him back at a lower salary and guarantee him a starting role, something no other team seems willing to do? Also, some sources indicate that the Nats are high on the list of lefty Jarrod Washburn, who wasn't offered arbitration by the Angels and is now searching for a new home. If the team could retain Armas Jr. and sign Washburn, the retooling for 2006 would be essentially done.