Nationals Looking For Useable Frames On Cutting Room Floor
[Dec. 21st] - It's time for me to stop the whining. Sure, the team lost Junior Spivey and Rick Short as non-tendered free agents. But you've got to figure that if the Nationals lost two players who could have helped the team in 2006, there might be some other teams in that same predicament. Fifty players weren't tendered by the midnight Tuesday deadline, and there are several players with the potential to contribute to a very troubled Washington franchise. Of those fifty, there are nine that are intriguing. I'm not suggesting that they would fit the team as constructed, or that they are necessarily better than who the Nats have now. But they could help:
ERIC BYRNES - OF:

Byrnes has proven he is a capable everyday player. He had a disastrous 2005 season (.231-10-35) but that might have to do with the fact that he was traded twice, playing for Oakland, Colorado and Baltimore. He got the chance to play everyday in 2004, and did well, batting .283-20-73. He's a Pete Rose type (type, not talent - he does everything 110%), a great two-strikes hitter and eats lefties for lunch. He's got a great glove and even greater speed. The 29 year old is a "fan favorite" type of player, and with the loss of Rick Short, the team really, really needs one.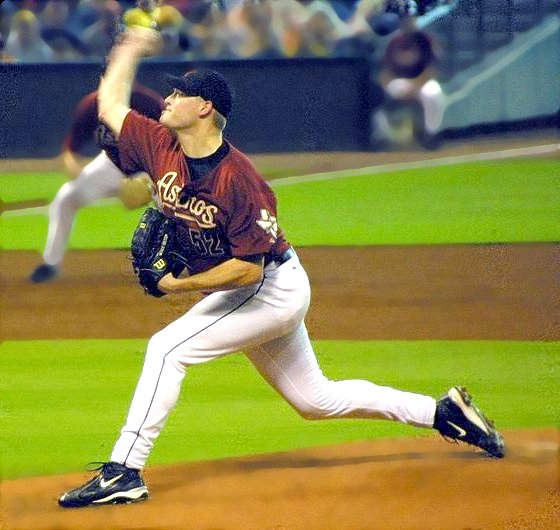 WADE MILLER - P:

The Red Sox hoped that Miller would become a "non-tendered" steal after the Astros turned their back on their former ace two seasons ago. Didn't happen. The 29 year old pitched "ok" for Boston, going 4-4, 4.95 last season. He had shoulder surgery during the season and won't be ready until late in 2006, perhaps even 2007. The Sox aren't the type of team with a "wait and see" attitude and quickly jettisoned him. He was great with the Astros, going 16-8, 3.40 in 2001, 15-4, 3.28 in '02 and 14-13, 4.13 in 2003. Miller has a 95 mph fastball and a 90 mph slider. He's dominating when healthy.
KEN HARVEY - 1B:

The Royals have been waiting for years for Harvey to "turn the corner" and become a complete player. He still may, but not in Kansas City. A torn Achilles tendon doomed his 2005 season (.222-1-5) and will miss half of the 2006 season. But Harvey is a former all-star, and at 27, is still young. If he remains healthy, his MLB history indicates Harvey is a .285-22-90 type of player. He has two things in common with current Nationals' first-sacker Nick Johnson: he gets hurt a lot and doesn't have a lot of power for being a big, burly guy. Harvey is an average first baseman.
RYAN FRANKLIN - P:

Franklin, 32, has shown he has talent, but not enough to remain with the Mariners. He went 8-15, 5.10 in 2005. He had a breakout season in '03 (11-13, 3.57) but was AWOL in 2004, going only 4-16, 4.90. He could shore up the back of the rotation if needed. He has a lot of pitches, but none of them are "plus." His velocity is only average, but he has good control and can be counted on to pitch 200 innings. Don't count on Franklin becoming a different pitcher in Washington. Safeco Field is everybit as much a pitchers park as RFK.
RAMON ORTIZ - P:

He is one of those guys who makes you wonder how he wins all those games with such a high ERA. He went 9-11, 5.36 with the Reds last season, and has a career 68-60 record with 4.72 ERA. Ortiz has a 95 mph fastball, but it's as straight as Donny Osmond. Ortiz is one of baseball's high ERA pitchers with a winners mentality that could succeed at RFK. Part of his problem is his height (just a tinch under six-feet) -- he isn't throwing down towards the batter (like Randy Johnson or John Patterson) which makes his ball even easier to hit.
JASON PHILLIPS - C/INF: Phillips came out of nowhere in2003, batting .298-11-58 for the Mets, but then left just as quickly. He his .218 in '04 and .238 last season (.238-10-55 with the Dodgers). The Dodgers tried to trade Phillips before non-tendering him, but no one wanted him. When Phillips slumps, he slumps. He's got a good eye and doesn't strike out very much. He's an above average catcher but while he can play first and third, he isn't very good at it.
Dan Kolb - P:

This is one interesting story. While with the Brewers, Kolb saved 60 games in 2003 and 2004. Tabbed as the heir apparent to John Smoltz in Atlanta, he wilted under the pressure of playing for a real team (3-8, 5.93). He was traded back to Milwaukee for Wes Obermeuller (both of whom were un-tendered). Kolb has a fastball that sinks, making him a perfect designated "double-play" guy out of the bullpen. He's not a strikeout pitcher, though. Don't count on him to come in and whiff two guys to get out of an inning. NOTE: I'd like him to join the Nationals so the team could have two Dan Kolb's on the team one day [the other one is a pitcher for the Potomac Nationals]
Josh Fogg - P:

The 29 year old tried to forget his 2005 season (6-11, 5.05), but the Pirates wouldn't. But he's a good pitcher. Well, decent pitcher. He went 33-30, 4.59 in his previous three years with the Pirates. Every one of Fogg's pitches are major league quality, but just barely. When your heater tops out at 87 mph, you have to have pin-point accuracy. When Fogg is accurate, he wins. When he doesn't he gets shelled. In that respect, Fogg reminds me of Ryan Drese.
Dewon Brazleton - P:

This is one weird duck in one weird situation. He was considered a 'can't miss' prospect with Tampa, but he's never pitched up to his reputation. He's gotten into some fights with management over his roller-coaster majors to the minors to the majors to the minors ride. Although his stats don't reflect it, Brazelton believes he's earned the right to stay in the bigs. The 25 year old has a career 8-23, 5.98 ERA record. It should be better. He has a 94+ mph fastball and a curve and change up that have embarrassed many veterans. He doesn't have a third pitch though, and that might force him to the bullpen pretty soon. He was traded for Sean Burroughs just a couple of weeks ago.
As an aside, our old pal Endy Chavez was non-tendered by the Phillies. It's been so easy to take a swipe at Jim Bowden the past couple of weeks that we tend to forget his trade of Chavez to Philadelphia that brought Marlon Byrd to D.C. Byrd has turned into a solid 4th outfielder, and, according to Bowden, could now hit 20 homers and drive in 80 RBI's as an everyday player.
There are a few names on this list that could really help the Nationals. If the team can sign Eric Byrnes, they could probably count on a .270-17-70 season with stellar defense, good enough to package Ryan Church in a trade for pitching. I really like Josh Fogg and believe he could do very well at RFK. He went 1-6 at tiny PNC Park in 2005, and 5-5 on the road.
The non-tendered gods tooketh, and now it's time for them to giveth. The team is saving almost $3 million by pushing Junior Spivey out the door, and that money (and a tad more) could probably land Josh Fogg and Ryan Franklin.
Sometimes, you can really find bargains in the bargain basement.
Comments:
Harvey's out until at least midseason with a torn Achilles' tendon injury. I like the idea of a RH bat off the bench (that's part of the problem with Fick, I think; Bowden would have been better served signing a RH 1B/OF type to spell Johnson, especially against LHP, IMHO). But it won't be Harvey.
Ortiz's declining K rate is also a cause for concern. It's now down to about 4.5/9IP, and that's usually (with some exceptions, of course) the threshold that determines whether a pitcher actually can be effective on an extended basis.
Nice post about Soriano last night, by the way.
--Basil
Post a Comment
<< Home