R-U-M-O-R C-E-N-T-R-A-L: Sledge To Padres?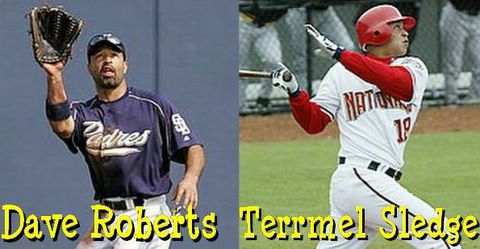 [December 6th] -- Jim Bowden may be ready to deal. USA Today and rotoworld.com are reporting that the Washington Nationals and San Diego Padres are discussing trading outfielders.
Terrmel Sledge, who missed most of last season due to a hamstring injury, may be going to San Diego in exchange for Dave Roberts. Roberts was to be part of a trade that would have brought David Wells back to the Padres, but it now seems likely that other players will be involved in that deal.
Sledge, slow afoot but with decent power and good baseball instincts, would become the Padres' primary leftfielder. Roberts would take over centerfield in Washington, giving the Nationals the leadoff hitter they have been searching for since 2003.
Roberts had a good 2005 campaign, batting .275 with 8 homers and 38 RBI's. He stole 23 bases, but has swiped as many as 45 in his career. He had a decent .356 on base percentage. Unlike current leadoff hitter Brad Wilkerson, he makes contact, striking out only 59 times. Wilkerson struck out 147 times in 2005.
Upside on this deal: Roberts is fast and is a true leadoff hitter. Downside: He has never played more than 127 games in his career and is 32, five years older than Sledge.
If Bowden pulls the trigger on this deal, it would most certainly spell the end of the Brad Wilkerson era in Washington. Wilkerson could be packaged with another player, perhaps Junior Spivey, for a power hitter or a quality starting pitcher.
I like the deal. Brandon Watson deserves the chance to play, and Robert's history of not playing everyday gives the youngster the opportunity to start 50 or so games, allowing the team to groom him to replace Roberts in the next 2-3 years.
Comments:
I don't see the upside to this deal. Yes, Roberts is fast and probably a beter center fielder than Wilk. However, as you said, he is more fragile than Wilkerson and his OBP isn't as good career-wise (.365 for Wilk vs. .340 for Roberts). If we're serious about moving Wilkerson, I'd need to see a better bat replace him in LF than a Church/Byrd platoon. Now, if we were to sign Roberts and move Wilk back to LF, I could see this deal in a better light.
The upside is that Roberts doesn't strike out 147 times per year. Guys like Roberts put the ball in play 80 or so more times in a season than Wilkerson. In those 80 balls, there is going to be many bad hop singles, errors by the defense, sacrifice flies and runners being moved over to second and third. By making contact, Roberts might allow the team to produce another 15-20 runs, which could translate into another 3-4 wins. Wouldn't it have been nicer if the Nats won 84 or 85 games in 2005 instead of 81? Roberts might have helped do just that.
High strikeout totals aren't necessarily a bad thing. In 2005 (an off year for Wilk and a good year for Roberts), Wilkerson accounted for
23
win shares (WS) vs. Roberts'
15
WS. Even if we assume that Roberts could play as many games as Wilk (a BIG if) and pro-rate his WS accordingly, Roberts still only accounts for 19 WS's. In short, Wilk >> Roberts.
Now, let's compare Sledge's WS. One must discount his 2005 stats due to the injury, so let's go with 2004, when he accounted for 15 WS in 133 games. Considering Sledge is 5 years younger and $750K cheaper, I'd take youth and potential over Roberts, though admittedly Roberts is probably the better player right now.
Post a Comment
Links to this post:
<< Home