Bowden May Have Stumbled Into Nationals Future Need For Speed
[January 14th] -- There is no question that the Washington Nationals drafted a player in the MLB 2005 amateur draft who will become the key player in the team's long-term future.

You might be surprised to find out, however, that the "key" player very well might not be Ryan Zimmerman.

The Nationals signed outfielder Justin Maxwell last October, the team's second overall pick, taken in the 4th round of the draft. Maxwell, who graduated from the University of Maryland this spring, had rebuffed the team's efforts to sign him because of the contract's structure and not its financial considerations. Team officials described the negotiations as "amicable." My guess is the contract addressed his injury plagued seasons of 2004 and 2005.

Injuries the past two years robbed Maxwell of what would have been a sure first round selection in the amateur draft.
An inside fastball during spring practice in 2004 broke a bone in his forearm, forcing him to miss the entire season. He tried to play in the Cape-Cod League that summer but broke a finger there effectively ended his year. Seven games into Maryland's season this year, he broke a bone in his hand, ending his collegiate career. He is at full strength now and will likely begin the 2006 season at class 'A' Potomac.

Maxwell has been a star at every level. He played in the Cape-Cod League in 2004 and hit .307 with 47 hits and 2 home runs. In his abbreviated 2005 season at Maryland, the 6'5", 220 lb outfielder batted .455 with 3 home runs and 10 RBI's. His talent is well known to most soouts and general managers in the major leagues.

He was drafted in 2001 by the Orioles, and again in 2004 by the Rangers. Texas scout Grady Fuson called Maxwell "one of the top college players" in 2004, and said that Maxwell "could very well be one of our most important selections in some time." Maxwell didn't sign with the Rangers.

Maxwell is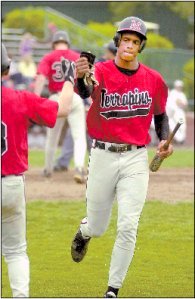 both powerful and fast, and is often compared to former Met great Daryl Strawberry. His swing has a high arc, allowing him to not only drive balls, but drive them very high and very deep.
Defensively, he is major league ready today, according to a scout from the Orioles' organization.

While his physical tools might be compared to Strawberry, his personality is more like Cal Ripken, which is good for him and great for the organization. Sean Welsh, GM of the Bourne Braves, a summer-league team Maxwell played for two seasons ago, said that he's as apt to be reading his Bible as he his sanding his bats in preparation for the next day's game.

It looks as if those injuries that kept Maxwell off of the diamond the past two years are more about being in the wrong place at the wrong time than problems with joints or muscles. Maxwell will need time to make up for all those lost at-bats the past few years, but it seems that when he does reach D.C. [likely in 2008], he'll be a fixture in the outfield for some time to come.

Kudos, Jim Bowden. You did well.
Comments:
This guy has a huge upside -- its a shame that the only way this franchise can get players like this is when they're willing to take a chance that no one else will.
I heard he has 20-20, maybe even 30-30 potential. I saw him play a game with the Terps in (I think) 2002
He would have been a sure 1st rounder if he hadn't gotten hurt. I'm surprised that he held out for so long considering he had no real leverege to bargain with
Post a Comment
Links to this post:
<< Home