Brian Schneider Signs 4-Year Deal, Commits To Nationals' Future
[January 17th] -- I'm glad it was Brian Schneider.
Schneider, 29, signed a four year, $16 million dollar contract on Tuesday that would guarantee his presence on the team through the 2009 season. He could have been a free agent after the 2007 season and would certainly have been coveted by dozens of teams. Instead, he chose to remain with the Nationals. It seems that Schneider accepted quite a "home-town" discound to remain with the team. He would have likely commanded a free-agent contract worth $7-8 million per season in 2008.
Schneider is considered the best defensive catcher in the league today, and has led the National league in throwing out base-stealers the past two seasons. He is by far the bes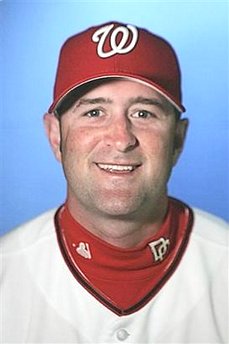 t at blocking pitches in the dirt. His play-calling is tremendous.
For a defensive catcher, however, the guy sure can hit. He can be counted on to hit around .260 with 10 homers and close to 60 RBI's. Most impressively, he has become a solid contact hitter.
He struck out only 45 times in 2005 and has one of the lowest strikeout to at-bat percentages on the team.
Finally, someone on the Nationals' roster has committed to a long-term relationship with both the city and the team. The contract gives Schneider security for the next four years and offers the team the opportunity to now address other, more pressing problems.
Thanks, Brian. Finally, someone was willing to commit to baseball in Washington. Perhaps now Bud Selig and Linda Cropp will follow his lead.

Comments:
First Player To Commit To D.C. Long Term
The first? Really? What about me? How soon you forget (and how much I know you want to).
Hey Cristian, you're right. What I meant to sign was: "the first player to commit long term to D.C. who we want here."
Here is the difference -- Cristian signed for the money
(no one else was going to pay him that kind of money)
while Schneider took less money to remain with the team.
Post a Comment
Links to this post:
<< Home