Memo To Jim Bowden: Get Creative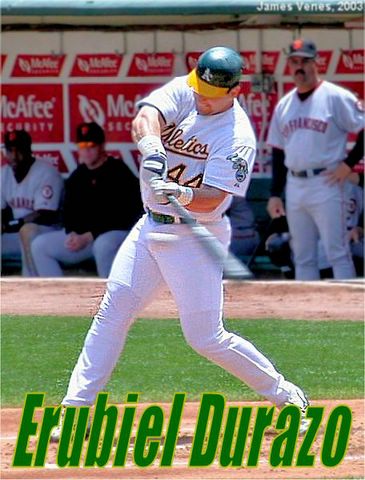 [January 6th] -- The Nationals are approaching the beginning of spring training with holes left unfilled and questions still unanswered. The payroll limit, about $60 million, has for the most part been reached, yet the team's roster still seems somewhat unsettled. All the free agents that could have made a difference have long ago signed with other clubs. So how can our Mr. Bowden make a move that will help the team?
By becoming creative. Very, very creative.
I believe that the Nationals' long-term solution at first base isn't Nick Johnson, but rather 25 year old minor-league underling Larry Broadway. Broadway, a product of Duke University, was progressing through the Nationals' system nicely until a slow start at 'AAA' New Orleans last season (.193-0-5) and a serious injury sidelined him for the first half of 2005. He played at 'AA' Harrisburg the rest of the year, going .269-12-24 in just under 200 at-bats. He was invited to play in the Arizona Instruction League where he batted .339-2-9 in just 59 at-bats. Broadway spent the past two months playing in the Venezuelan League, where he continued his hot hitting, going .341-2-15.
Now, if I were Jim Bowden, I'd be very impressed with Broadway's improvement in the last seven months. He's not ready for the majors, but he's almost ready. Another year maybe. At the most. He needs a full season at New Orleans, and then he'll be ready to take over first base in Washington. Broadway has more power than Nick Johnson, and his glove is almost as good. He's also three years younger.
Okay, so why not let Nick play 2006 in D.C., and then trade him? Well, because by next fall, all of baseball will know that the Nats will have a first baseman ready to take over in 2007, and will offer less in trade because it will be a buyers market. If Bowden were to trade Johnson now, however, the team would likely get more in return.
The Phillies went through exactly the same situation this past season. All of baseball knew that Philadelphia had to make room for rookie phenom Ryan Howard, and the Phillies received far less than market value for superstar Jim Thome. C'mon, Aaron Rowand for Jim Thome??? On a good day, Thome hits three dingers. On a good day, Rowand makes it to the ballpark on time.
So, the Nationals need a one-year wonder at first base, and I've got just the guy. Erubiel Durazo.
Sure, he had an off year and was injured, but that's why he's garnered little interest as a free agent. He made $4 million with the A's last season, and could be had for half that, maybe less. During his last two full seasons, Durazo averaged .290-22-80 with an outstanding .385 on base percentage and a strong .485 slugging average. He hits lefties about as well as he does righties, and can find his way around the bag defensively (though admittedly, just barely). Player cost isn't a concern, either. At most, Durazo would make $500,000 more than Johnson, if that.
That's step one. Jim Bowden could then package Nick with Alfonso Soriano, or Ryan Church, or a minor leaguer or two, and get a real leadoff hitter and perhaps a young pitcher or two. The team could let Durazo walk at the end of the season with no ill-feelings because he was a one-year stop gap, a rent-a-player.
Jim Bowden has to begin to put the team together in a seamless fashion so that players will come and players will go with no real change in the team's overall performance. The Braves have won fourteen consecutive pennants while overhauling a quarter or more of the team each season. The Nationals can do the same if the team is put together properly.
Durazo could flourish playing at RFK. His home runs don't just eek over the outfield walls, they rocket beyond them. He's a good player and a good citizen, the kind of guy who will cancel out having Jose Guillen on the team.
It'll work. And we have nothing to lose.
Comments:
Nice thought, but Durazo is strictly an AL/DH-only guy. He played 4 games at 1B in '04 and committed 2 errors. He played 33 games at 1B in '03 and committed 6 errors. Same thing in '03 in Arizona where he committed 7 errors in 56 games. Compare that with Johnson who committed 4 errors in 73 games in '04 and 5 errors in 129 games in '05.
Broadway needs to prove himself at the major league level before I'm ready to replace Nick the Stick with him.
No doubt he has defensive limitations, but I can tell you from experience, it's very difficult to take the field and play good defense when you're a DH for the great majority of the season. After 20 or so games, he'd settle in nicely. Durazo is one of those guys who doesn't get to many balls, but tends to turn the ones he does get to into outs. But, no question he'd never dig out balls in the dirt like Nick can. My guess: he'd allow 15 more runs than Nick would, but he'd probably produce 5 or 10 more as well. Plus, my guess is that whom ever the team would get in trade (especially if the Nats packages Johnson in a blockbuster), I'd bet that it would be a "plus" in terms of runs scored / runs allowed.
Post a Comment
Links to this post:
<< Home