Will RFK Have 'Nick At Night' Next Summer?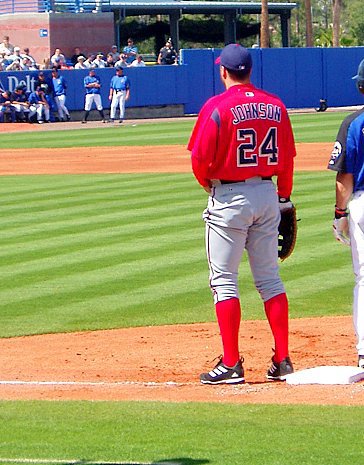 [January 27th] - I was stunned when I read that Nationals' first baseman Nick Johnson will be a free-agent at the end of the 2006 season. Johnson, 27, has played only 452 games in the major leagues, the equivalent of less than three 162 game seasons.
And he's going to be able to walk come October. Those players have one heckuva union.
Okay, so lets cut to the chase. Forget the dollars for a moment. Do we want Nick Johnson back in 2007?
If you look at a 162 game average of what he's done in the major leagues, Johnson's stats break down this way: .265-18-78, .383 obp and .437 slugging average. His minor league seasonal average was .304-17-87. This indicates a couple of things. First, the consistency of his major and minor league career indicate that he's hitting as well as he's ever going to. .300-20-100 is the high end of Nick Johnson's bat. Secondly, ... well, actually there was only that first thing. But that was a pretty big first thing, wasn't it?
Every January, all the magazines and baseball websites break down the players by position. Every one that I've come across had Nick Johnson listed as a "second tier" first baseman, below the Carlos Delgado's and Derek Lee's but above the J.T. Snow's and Ken Harvey's, side by side with "nice" first baseman like Sean Casey and Lyle Overbay.
Being mentioned in the same breath with Casey and Overbay isn't too bad; kinda nice really. But what do both Lyle Overbay and Sean Casey have in common? They were both traded this off season. Casey ended up in Pittsburgh and Overbay in Toronto. Something else they have common is that both of them lost their jobs to young, slugging first baseman. There is no way that Prince Fielder in Milwaukee and Adam Dunn in Cincinnati come close to Casey's and Overbay's overall talent. But when they swing and don't miss, the ball goes far. Very far.
So it's fair to assume that most team's don't think they can "win" with a "nice" hitter at first base. Guys like Casey and Overbay (and Johnson) are fine as long as t
he team's goal is to finish close to .500. But Milwaukee is now loaded with young talent and they think they're ready to make a move up in the standings, so they jettisoned Overbay. The Reds, with new ownership and management, believe that they are close to making noise in the NL Central, so they jettison Casey. The Pirates, a team with .500 as a goal, scooped him up. The Blue Jays, who haven't made much noise in the AL East since the first Clinton administration, grabbed Overbay.
And then there's the Nationals.
As spring training grows closer, whispers about minor league slugger Larry Broadway are becoming louder. Jim Bowden spoke eloquently of him last week. So did Bill Ladson. It's always the same. "Broadway will be ready in 2007." "He was one of the bright spots of the Arizona Fall League." "The guy has a cute butt."
Well, the last one was from my 16 year old daughter.
Nick Johnson has a perfect swing for RFK Stadium. He slaps. He hits line drives. The deep fences probably help him more than they hurt him. But considering that RFK is temporary, and based on the anger the deep fences have caused thus far, the new park, at best, will be "neutral." Johnson may have trouble in the new park, as he doesn't have enough power to get the ball over the fence, and not enough speed to turn ground balls to the fence into anything more than long singles.
I think the only way that Nick Johnson returns to the Nationals' in 2007 is if he gets injured again. If he doesn't, then no other team would be willing to take a chance on him as a free agent. Call it the Tony Armas syndrome. If he does stay healthy, he'll likely be offered far more from other teams than he would from the Nationals with Larry Broadway waiting in the wings.
Bowden's attempt to sign Daryle Ward is indicative that first base is in a state of flux right now. Johnson may be traded during spring training for some pitching, with Ward, Robert Fick and a cast of thousands holding down the position until Broadway is ready.
If Ward is signed, I think we can say goodbye to Nick sometime during the season. And that's too bad. I like him. He's "nice."
Comments:
What you are ignoring about Johnson is the stats he put up before he hurt his foot last season. They were very impressive. He was by far the Nats most productive clutch hitter and had the very best discipline at the plate. When he returned, his stats suffered because his foot was still injured. Try swinging a bat with a deeply bruised heel. You also ignore the fact that Johnson is only 27 years old and that he is the perfect hitter for RFK. As far as I am concerned, Broadway has not done squat in the minors and he remains a huge question mark. Further, he looks to be more injury prone than Johnson. This Larry Broadway hype is totally out of control.
Post a Comment
Links to this post:
<< Home