Will Sammy Get His Groove Back?
[January 29th] - It's only a matter of a few short weeks before pitchers and catchers begin to report to spring training camps across Florida and Arizona, and still, Sammy Sosa continues to relax at his Miami home, chatting with Jim Bowden as it suits him, and preparing to begin his 18th major league season.
The only question is, where?
Well, actually, where isn't the question. That's the only certainty in this Miami melodrama. It's going to be in Washington D.C. and it's he's going to play for the Nationals. Oh sure, Sosa and his agents whine and posture in conversations with the Nationals' representatives, but truth be known (and everybody knows the truth), The Nationals are Sosa's only hope of redemption.
Two Japanese teams are very interested in the aging Dominican, but Sosa has no interest in playing outside of the United States. He needs only 12 more home runs to reach the magical mark of 600, and hitting them in Sapparo and Sendai just won't count. No other major league teams are interested in the aging slugger, and some are giggling at Bowden's interest in Sosa.
No, it's the Nationals or Sosa will be spending his evenings in Coconut Grove. He's arguing with Jim Bowden over the structure of the agreement, where the ducats will be coming from and how many he'll get, but rest assured, come spring training, he'll be a National. Had Jose Guillen's surgery allowed for his opening the season in New York, I'd have put Sosa's chances of being a National at only 50/50. But the team cannot afford beginning the 2006 season as they ended 2005, with almost as many players on the injured reserve list as on the 25 man roster. There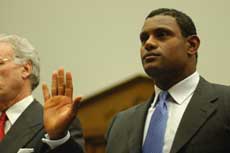 is no player on the roster today who could step in and bat cleanup while Guillen mends.
The Nationals need Sosa, and Sosa needs the Nationals.
The team doesn't want to be out of contention come May 1st, and Sosa doesn't want to end his career with those awful Baltimore numbers and the memories of corked bats and steroid-aided long balls blocking his entry into Cooperstown. Guillen's situation might force Bowden to throw a little guaranteed money at Sammy, but he'll come. Oh, he'll come alright.