Clint Everts: Back In The Saddle Again
[February 6th] -- Over the past year, most of the hard-core Nationals' faithful have culled the team's farm system from top to bottom, looking for any diamonds among the endless bags of coal. And just when we've pretty much got the "who's who" part figured out in Savannah, Harrisburg, New Orleans, Potomac and Vermont, we find a gem. A real gem.
Meet Clint Everts.
Oh I certainly had heard his name, and I've checked out his stats a couple of times. They were "ok" but not great by any means. But sometimes, the stats just don't tell the story, and that most certainly applies to Mr. Everts.
Clint Everts made history when he was drafted as the 5th player overall in the 2002 draft. For the first time since the draft's inception in 1964, two players from the same high school's pitching staff were first-round picks. Everts' teammate at Cypress Falls High in Houston was current Devil Ray Scott Kazmir. From the moment he signed with the Expos, Everts was lauded by the world of baseball. "He's got the best curve ball in the draft" said one scout. "From the moment he toes that rubber the first time, he'll have as good a change-up as their is in the minors today" said another. Everts "out pitch" has always been his curve, very unusual for such a young pitcher. There's nothing wrong with his fastball (88-92 mph), it's just that he's never had to use it very much. The Expos understood this and allowed him to throw the curve only 15% of the time his first season with the Vermont Expos in 2002. This put him at a disadvantage as he was forced to work outside of his comfort zone, and his numbers reflected it, going 2-4 with a 4.17 ERA in 10 starts. He did strike out 50 batters in 54 innings, however, and limited his batting average-against to just .247. Nonetheless, he was promoted to Savannah to finish out the season, going 0-3, 3.46. He gave up two runs or less in 4 of 5 starts, and allowed batters a .230 batting average. He struck out 21 in 26 innings.
2004 started wonderfully for Everts. Splitting time between Savannah and Brevard County (both class 'A' teams,) Everts went 9-5, 2.37 in 110 innings, striking out 129. The fast track to the majors, however, was derailed late in the season when a tired arm turned into "Tommy John" surgery, which normally takes 15-18 months to recover from. Not Everts. He was back pitching in less than eleven months. He pitched 35 innings in 2005, crafting a 3.44 ERA with the Gulf Coast Nationals and Vermont. He is strong and healthy and will likely begin the season with the Potomac Nationals, but could very well be in New Orleans by season's end.
Everts is an outstand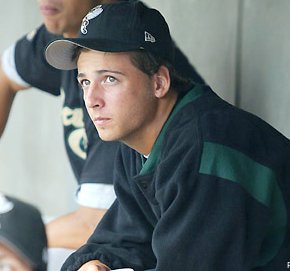 ing athlete who continues to grow; he added two inches of height and 15 pounds of muscle during his rehab over the last year. His added height and weight will only make his fast ball even faster. He has a solid, balanced delivery and a clean, easy arm action, which enables him to generate lightning-quick arm speed. The development of his changeup and curveball are further along at this point. His curveball, an 80-84 mph bender with great depth and tight spin, grades as a 70 on the 20-80 scouting scale. It projects as a strikeout pitch in the majors. Evers' 78-81 mph changeup is almost as good as his curve. It's a plus pitch that he has an exceptional feel for. He didn't turn 19 until late in the season, so he's well ahead of most pitchers his age. Typical of a young pitcher, he tends to fall in love with his best pitch and walks too many batters.
Before his injury, Everts was projected as a #1 starter in the rotation. Seemingly, he has returned to form and there is nothing to indicate that he won't take his place at the top of the rotation soon, possibly in 2007 or 2008. Everts is like that $10 dollar bill that you forgot you had in your sock drawer. I think most of us never knew just how good this kid can be. And from what I can tell, he'll be good.
Real good.
Comments:
I'm not sure if he's #1 material. If his fastball was 95 mph, then yeah, but not with a 92mph heater
Well, I seem to remember a couple of guys with minimal fastballs that made good careers in the majors with a killer curve and tough change. Their names? Steve Carlton & Bert Blyleven.
Farid
Post a Comment
Links to this post:
<< Home