WAYBACK MACHINE: Plastic Grass At RFK??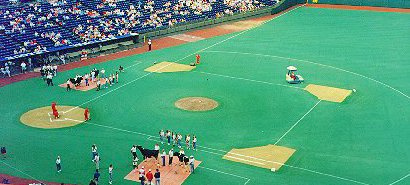 [February 12th] -- More than 30 years ago, Redskin owner Edward Bennett Williams announced the hire of a new, proven head football coach who would lead the team back to prominence in the NFL. This man had a few championships under his belt, and was known to be able to turn around an NFL team almost immediately. No. It wasn't George Allen. He came later. This was Green Bay legend Vince Lombardi. Lombardi turned the Redskins into winners in 1969, their first winning season in 14 years, and only their third since the Truman administration.
Lombardi found something new when the Redskins visited Franklin Field in Philadelphia, owned by the University of Pennsylvania and shared with the Eagles. Gone was the hard grass sod and in its place was a brand new artificial surface. Lombardi loved the feel of the Astroturf as he walked the sideline during the game. He told reporters that he intended to talk to the Armory board about changing over the RFK field to the artifical surface.The Armory board liked the idea of placing Astroturf in RFK Stadium. The cost, over ten years, would be far less expensive than the cost of maintaining a sod field. All that was left was to get approval from Senators owner Bob Short.
It never happened. Short, in perhaps the only wise move he made during his period of ownership in Washington, said "No way." The Armory board, and Lombardi indirectly, negotiated for sometime before finally giving up hope that an agreement could be reached. By the time that the Redskins became the sole occupant of RFK Stadium in 1972, Vince Lombardi had been dead for two years and George Allen was the new "sheriff" in town. This sheriff hated astro-turf. That ended any hope of plastic grass at RFK.
Bob Short did the right thing. Man, that is sooo hard to write.