Game 2: Nats Lose, But Not Really
[March 3rd] -- The final score of Friday's game isn't really important. Sure, the Pirates won, but they really didn't beat the Nationals.
They beat Micah Bowie, a player so far down on the depth chart that the towel boy would be more likely to come north with the team.
So let's focus on the guys who may have an impact on the team in 2006:
THUMBS UP:
Brandon Watson went 2-3 and is now batting .800 for the spring. You would think that Ryan Church might be a little nervous, but he hit a long home run against the Pirates and is batting .333. Ryan Zimmerman played for the first time this spring and went 2-3. Matt LeCroy & Marlon Byrd both went 1-3. Kyle Denney, who hasn't pitched in the majors since 2004 and is yet another of Bowden's reclamation projects, was brilliant. In three innings, he gave up only one hit, striking out one and walking none.
THUMBS DOWN:
Micah Bowie, Micah Bowie and Micah Bowie. In one inning, the former Brave gave up five runs on three hits, walking three and giving up two home runs. Oh yeah, that'll impress Frank. Brendan Harris went hitless for the second straight day. Royce Clayton and Marlon Anderson both went 0-3.
Of the guys with a "thumbs down," only Brendan Harris should be concerned. Royce Clayton and Marlon Anderson have proven enough in their careers that a streak of hitless at-bats won't cause them any problems. But Harris is on the bubble, and needs to impress to stick.

THE SORIANO SAGA, PART XXIVXIII: Baseball Tonight spent a little time talking about the Nationals and Alfonso Soriano. Karl Ravich: "Is Soriano doing the right thing or is this going to hurt him in the long run? Soriano told club officials that they have three weeks to figure this all out, and that he would not play in the outfield." John Kruk: "It's going to cause problems in the clubhouse. His teammates are going to say, 'Hey, this guy came over here, he says he wants to help but he won't switch positions, he won't do what it takes, maybe we don't want him here." Harold Reynolds: "I blame the Nationals. Soriano wouldn't move to the outfield for the Yankees, he wouldn't move to the outfield for the Rangers so that Michael Young, his offensive equal, could play his natural position. Why on earth would the Nationals think he'd make the move in Washington? It's the Nationals fault." Peter Gammons: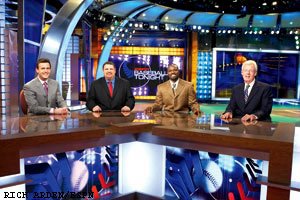 Jose Vidro is a great second baseman, and I don't think they would trade him. Right now, Soriano has far more value on the trade market. Look; he is inadequate at second base .... if he would play the outfield this season, his stock would only go up. Right now, because of his problems in the field, I don't think their is a team that would want him next year at the dollar amount he's going to ask for."
Well, John Kruk is right. And Harold Reynolds is right. And so is Peter Gammons. The only one who is wrong here is Soriano. The Guillen injury is going to force Jim Bowden's hand and something will probably happen fairly soon.