IT'S NO FUN BEING RIGHT THIS TIME
[March 3rd] -- I was hoping this wouldn't happen. But I knew it would.
After two weeks of saying that Robert Fick's "floaties" in his right elbow wouldn't cause him to miss any time, that he would have surgery in the off-season to repair the problem but would be fine for 2006, team officials announced that Fick will undergo surgery in Cincinnati on Monday, and is expected to be sidelined 2-4 weeks. "He might be ready for opening day" says the source. Now, this is the same source who said that Fick would be able to play the upcoming season with bone chips in his elbow with no ill effects. Using a deception-deleting algorithm of my own design, I conclude that Fick will return to the Nationals in late April or early May. This probably opens up an opportunity for either Dayrle Ward or Brendan Harris (probably Harris) to show their "stuff" until Fick returns.
I predicted the day that Fick's injury was announced that he would end up having surgery sometime during spring training. If, in fact, the team wants him to be a backup catcher, Fick would have to be able to throw to second base. And reach it. Had the team taken care of this last week, he might have been able to be part of the opening day lineup.
Let's blame this on Jim Bowden, just for fun.
In other news, Pedro Astacio has passed his physical and was in uniform on Thursday. Manager Frank Robinson said there wasn't a real timetable for his newest would-be starter. "We'll let him get familiar with things around here, throw some . . . and then let him tell us when he's ready to pitch in a game," Robinson said. "There's still time" to get him ready by Opening Day. If the regular season were to start today, these players would probably make up the starting staff:
LIVAN HERNANDEZ: Although his knee is fully repaired, Livan came into camp overweight, which didn't sit well with manager Robinson. His knee was probably made worse with his weight last season; why would he risk more problems by coming in heavy in 2006?

JOHN PATTERSON: The only thing different about Patterson this year is the beard. Makes him look a little less like a choir boy.

RAMON ORTIZ: Bowden assistant Jose Rijo watched him throw last fall and clocked him at 96 mph. A quick call to his boss got a deal done. He just might produced above expectations.

PEDRO ASTACIO: Although Lawrence will surely be missed, Astacio's best years have been far better than Lawrence's. The difference between the two pitchers is that Lawrence's best and worst years look about the same; Astacio has the talent to be very very good and the inconsistency to very very bad.

TONY ARMAS JR.: Armas is the "X" factor for the Nats in '06. He's always had the talent to win 15 games with an ERA around 3.20. He's just never had the health to do it. This year, however, could be different. Surgery last fall released his posterior capsule, and I haven't a clue what that means. What I do know is that Randy St. Claire has said that his arm looks loose and he is again able to follow through on his delivery, giving his pitches that extra "oomph" they so desperately need.
So, the best case scenario would have Livan winning 16 games, Patterson 15, with Ortiz, Astacio and Armas Jr. winning 12 apiece.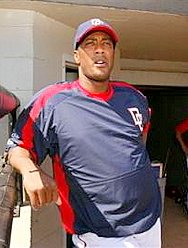 That would be 67 wins. Throw in 17 wins from the bullpen and the Nats would seem to have a decent shot at a .500 record again this year.
However, as we all know, "best case" and "Nationals" never seem to be used in the same sentence. Ever. More likely, Livan and Patterson will combine for 30 wins, two of the other three will combine for 22 more, and the third guy will fall off a cliff or get an infected hangnail or something just as weird. Give the replacement 5th starter 7 wins and they may total 59 for the year. Add 17 wins from the bullpen and the Nats would end the season at 77-85, which I think is in the neighborhood of what most bloggers see as the likely conclusion to the Nationals' second season in D.C.
But really, who knows? That's what makes spring training so much fun.
Comments:
Well, now we have the Guillen wrist injury which probably finishes him and the Nats off for the year. The only worse news would be that Bowden had signed a lifetime no cut contract as GM.
Post a Comment
Links to this post:
<< Home