PIRATES POUND NATS 9-1 IN SPRING'S FIRST "WHO CARES" GAME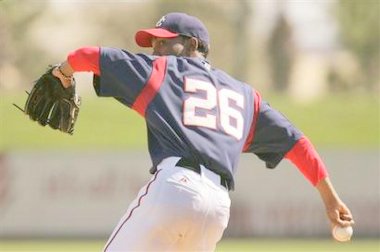 [March 2nd] -- Well, it is only spring training.
It's a good thing that come June, the Nationals' first "official" spring game will be long forgotten. On the bright side, Ramon Oritz pitched pretty well, allowing only one run in three innings. However, he had trouble finding the strike zone, as his 50 pitch pitch-count would attest. Frank Robinson said his arm was "live" but wasn't too happy with his control. He reminded me of Nats' ace Livan Hernandez, going deep into counts 3-1, 3-2 and then retiring the batter. NO, I'm not comparing him to Livan. I am saying, though, that he battled back and got the outs on a day when he was having control difficulties. Good for him.
Brandon Watson led off the game with a single and promptly stole second base. That theft represented 1/45th of the team's stolen base total for all of 2005. The slight speedster went 2-2 against the Pirates. Kevin Gryboski pitched well in his one inning of work, retiring the side in order.
Ryan Zimmerman made a couple of stellar defensive plays as well, stabbing a ball headed into left field, and then reaching into the dugout and pulling back a foul ball for an out. Brendan Harris made a great diving stop to his right, but also couldn't find a popup in shallow right field; Ryan Church had to come in and make the grab.
Other than that, it was a pretty boring couple of hours listening to the game on my XM radio. I recorded it hoping to listen to it again tonight.
Nah, I think I'll pass.
Comments:
Re: Church.
Couldn't it possibly be Bowden posturing for a Soriano + Church package? On the other side, you have the Red Sox claiming no interest in a trade, yet quietly shopping Graffanino?
Post a Comment
Links to this post:
<< Home