TROUBLE BREWS WHILE SORIANO STEWS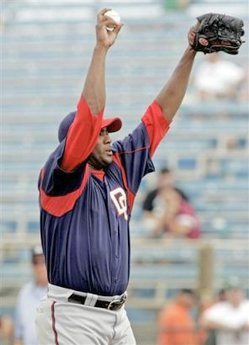 [March 17th] -- Start worrying about the starting pitching.
Well, that's not entirely correct. Start worrying about two - thirds of the starting lineup. John Patterson and Livan Hernandez are pitching "lights-out" this spring. In a combined twenty innings, the two have given up only one run for a microscopic 0.45 ERA, and have allowed only nineteen base runners (14 hits, 5 walks). No problem there.
Ramon Ortiz and Pedro Astacio are the problem. The de-facto number three and four starters in the rotation have combined for an 0-3 record and a 10.80 ERA. They have given up an astounding forty base runners in just fifteen innings, striking out seven. The other two players being considered for a starting slot, Ryan Drese and Tony Armas Jr., have yet to pitch an inning in a spring training game. Drese will likely be on the disabled list until May and Armas, who was promised several starts during the World Baseball Classic, ended up pitching just two total innings. Jon Rauch (0-1, 6.35) has pitched better of late, but has had only had one solid outing. A few other pitchers, like Billy Traber, have pitcher very well, but manager Frank Robinson has already said they aren't in contention for a starting job.
The time has arrived for the Soriano situation to go away. The Nats are in desperate need for one more starter, and Soriano has no place to play in Washington. Frank Robinson has flatly stated that Jose Vidro is ready to take back second base, and the team will be just fine by using Brandon Watson, Ryan Church, Marlon Byrd and Jose Guillen in the outfield. Bowden has to trade Soriano, and he has to get starting pitching in return. Now that Nick Johnson has been signed through 2009, a package of Larry Broadway and Soriano should be able to bring a quality starter in return. It might be a pitcher in his last year of his contract, like Soriano is, but that's okay; we're going to lose him regardless.
Could a Soriano/Broadway package bring Matt Clement and a minor leaguer? I think so, and I think it would be a fair deal as well. It doesn't have to be Matt Clement. He just has to be Clement-esque. C'mon, Jim. Pull the trigger, now, before other teams realize that Soriano went 0-11 in the WBC and committed a costly error against team Puerto Rico, causing him to be benched in favor of the Tigers' Placido Polanco.
Soriano can't start on Team Dominica, and he can't start for the Washington Nationals. Time to move him before he becomes a Zephyr.