ZIMMERMAN BECOMING LARGER THAN LIFE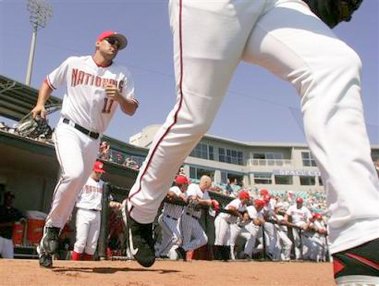 [March 6th] -- Spring Training does not a career make. Will someone please tell that to Frank Robinson?
Big Frank did a lot of talking following the Nationals win on Sunday. After Zimmerman charged a dribbler and, without missing a beat, picked up the ball and flipped it to Nick Johnson at first for an out, Robinson told the press gaggle that his young third baseman makes a lot of plays like his former teammate, hall-of-famer Brooks Robinson. And if that wasn't enough, he finished by saying that Zimmerman has the capability to hit 30-40 home runs a year.
All this on the basis of the youngster's first three spring training games?
Ask just anyone within the organization and they'll tell you that, yes, Zimmerman has the potential to be a gold glove fielder. In time. But not today. Offensively, however, no one has projected him to hit 30+ home runs a season. He is more likely to be what Chipper Jones was earlier in his career, high average, high RBI, with above average home run
power. According to the prognosticators, a mature Ryan Zimmerman will hit .300-25-100 year in and year out. But he's not going to whack the ball like Frank Robinson did, or like Frank Robinson thinks Ryan Zimmerman will.
Did you get that?
So why is Robinson saying these things? Frank isn't like Bobby Valentine, who went out of his way to talk fluff about all of his players, regardless of their ability. Oh no, not Frank. He says what he thinks. Perhaps his 50 years of baseball experience is allowing him to see something we mere mortals cannot. Look at this picture of Chipper Jones at the same age that Zimmerman is today. Jones looks a little leaner (perhaps). Maybe Robinson believes that, like Chipper Jones, Zimmerman will fill out and become a slugger.
But look, here's the deal. Jones drives in 100 runs every year with his bat, but probably gives up 10 runs a year with his glove. Zimmerman will drive in 100 runs a year, and save 10 runs a year with his glove. Final score: Ryan Zimmerman 110 runs, Chipper Jones 90.
So, in the long run, does it really matter if he hit's 35 home runs, or 25 or 10?
Comments:
I hope that the Nationals do what the Indians did during the mid 1990's; sign their young stars to long-term, relatively inexpensive contracts. In that category I would include Zimmerman, Ryan Church, Guillen and John Patterson. Everyone one else is either under a long-term deal or not worthy of one
Post a Comment
Links to this post:
<< Home