ARMAS BRILLIANT IN LOSS TO BRAVES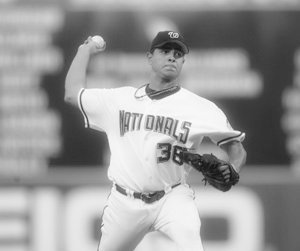 [April 24th] -- Yeah, yeah; I watched the game too. 1-0 lead into the 8th, a three-run homer by Wilson Betemit gave the Braves their first lead, sixteen runners left on base by the Nationals, and Nick Johnson ended it all with a dribbler to Adam LaRoche with two on in the 9th.
I got it. They lost. Big deal. Something very special happened last night. Tony Armas pitched a gem of a game, and, at least for the near future, the Nats seem to have solid pitching in the first three spots in the rotation. Armas pitched six innings, allowing just three hits while striking out five batters. His ERA for the season is now 2.70, more than a full run lower than John Patterson and almost five-runs-per-game better than the Nationals' alleged age, Livan Hernandez. If Ryan Drese continues to pitch well, the rotation might not be as bad as we'd once feared.
Armas was brilliant, consistantly hitting 91-93 mph all night. He threw strikes at the knees all night, keeping the Braves' batters behind in the count in almost every at bat. No one has ever questioned his talent or his heart; only his ability to stay healthy. His history says he won't finish the year in one piece. Jump into the way-back machine with me and let's observe Armas' last few years:
It was the last spring training game of 2003. Tony Armas squinted in the Florida sunshine as he leaned in towards catcher Michael Barrett to get his sign. The Mets' Jason Phillips danced off of third base. Armas came set and snapped off a curve ball that caught Ty Wiggington looking. "Strike three -- three outs!" bellowed the umpire. His day done, Armas began to run laps in the outfield, satisfied with both his outing that day and his effort during the spring. In 19 innings, Armas had given up only 3 runs while striking out 21 batters. Finally, the potential that had caused first the Red Sox, and then the Expos to acquire him, had been transformed to success on the field. He was confident that 2003 was going to be his breakout season.
Manager Frank Robinson certainly thought so, and tabbed the then 25 year old as the team's opening day starter against the mighty Atlanta Braves, who had just won their 13th consecutive division title. Armas would face four-time Cy Young award winner Greg Maddux.
It wasn't close.
Orlando Cabrera's two out, two on, two run home run opened the flood gates as the Expos scored four runs in the first inning, allowing Tony Armas to cruise to a 10-2 victory over Atlanta. Armas pitched 6 innings, giving up only 1 run on 5 singles. During the post game interview, Frank Robinson told the press that Armas had "turned the corner," and would finally develop into the dominant pitcher the team had always envisioned he would become.
His second game, against the Mets, wasn't quite as good. He gave up 3 runs in 5 innings in a 3-1 loss to New York. His next start, against the Cubs, was as dominant as the National League had seen that season. In 7 innings, Armas gave up only 3 singles while striking out 11 in a 7-1 pasting of Chicago. Game four was a rematch against the Braves in Montreal. Armas threw another 7 stellar innings, giving up only 3 hits in a no-decision loss to the Braves in 10 innings. His fifth start, against the Reds in Puerto Rico, wasn't nearly as pretty. Although he gave up only 8 hits in 6 innings, 4 of them were home runs (one to current team-mate Jose Guillen) as the Reds beat Armas and the Expos, 7-5. After 5 starts, Armas had a record of 2-1 with a solid .261 ERA. In 31 innings, struck out 23 and walked only 8 batters. He dominated in 4 of his 5 starts.
A dejected Armas boarded the team plane as it warmed it's engines on the tarmac at Marin International Airport in San Juan. He reached his seat and opened the overhead bin and, grabbing his travel bag with his pitching arm, threw it into the bin. He felt a sharp pain shoot through his shoulder. When Armas awoke the next morning in his Montreal apartment, he couldn't lift his arm. It happened again. Armas had torn both his rotor cuff and his labrum. He was done for the season.
The Expos/Nationals' franchise understood the fragile nature of Tony Armas Jr. His father, slugger Tony Armas Sr., missed more than 300 games in his career due to injury. In 1998, the Expos micro-managed their budding star to the point of forbidding him to throw certain pitches for fear of injuring his arm. He was tabbed as the Eastern League's best pitcher the previous season, and the Expos wanted him protected.
It didn't help.
Armas had sprained his elbow during the 2000 off-season, and was held back during the first part of spring training in 2001.
When he was finally allowed to throw hard, he developed tendonitis in his shoulder. Because the arm trouble limited the types of pitches he could throw, batters were waiting on his fastball, and he was hammered hard all season. Armas went 9-14, 4.03 in 2001. He stayed healthy in 2002, and won 12 games for the first time in his career.
Armas began spring training 2004 believing that he was 100% healthy. Frank Robinson wanted Armas to remain on the disabled list and continue to regain his strength, but Armas believed he was ready to pitch again. Frank was right. Halfway through the season, Armas developed a tired arm and was only able to start 16 games, going 2-4, 4.88. He came into the Nationals' initial spring training in 2005 fully healthy for the first time in several years. The team, and all of baseball really, believed that 2005 would be Armas' "breakout" year. That lasted until March 28th, when a pulled groin put the 27 year old on the 15-day disabled list. He rejoined the Nationals in May having missed 31 games. He started 19 games, going 7-7, 4.97. In September, he re-injured his groin and was listed as "day to day." A week later, the team placed him on the 60 day DL and he was lost for the season.
The Nationals weren't interested in re-signing Armas during the winner free-agent signing period. They believed that several teams would take a chance on the talented but oft-injured pitcher, and they just didn't have the payroll to take a chance on him. It was thought that Armas would get a contract that called for $4-6 million per year. He got nothing. Oh, the Rockies were interested, but playing a season in Denver wasn't going to do much to help him get a "real" contract in 2007. He ended up re-signing with the Nationals for about $2.1 million. The Nationals hope that he remains healthy and starts 30 games. Armas hopes he remains healthy and pitches well enough to garner a multi-year free-agent contract next season.
A healthy Tony Armas Jr. could have close to 100 wins at this stage in his career. He has 39. The odds are on him staying healthy in 2006. I mean, it just has to happen sooner or later. What could he do if healthy? 13-9, 3.75 sounds about right. If he has that type of season out of the back of the rotation, the team might just do OK. If he doesn't?
I don't want to even think about it.
The rest of the game was just window dressing for Armas' performance. Sometimes, a loss isn't just a loss. This one showed Nats' fans what a healthy Tony Armas Jr. can do.
I liked what I saw.
Comments:
Since we can't comment on your sidebar items, I'll do so here:
1. If Smulyan is indeed out, then what's he doing in the press going on about appointing a black president if he's chosen as owner? http://www.washingtonpost.com/wp-dyn/content/article/2006/04/23/AR2006042301168.html
2. Unless your son got to choose which Little League team he got to play on, you can't hold his playing on the Braves against him. He probably couldn't play for the Nationals because the league management couldn't decide on a sponsor. They promise they will in two weeks...
Post a Comment
Links to this post:
<< Home