BOWDEN, BASES, WERE LOADED ON TUESDAY, AND BOTH GOT SLAMMED
[April 18th] -- Ryan Zimmerman braced his back leg, swung level and drove the fastball deep towards the left-center field wall. Pat Burrell raced backwards, slowing up only when he reached the far edge of the warning track. He raised his glove and made the catch, a foot or so short of a home run. Burrell was standing 344 feet from home plate. Such is life in a band box.
Why, all of a sudden, have the Nationals' bats gotten hot? Law of averages? Small park? Bad pitcher? I suspect it's probably a combination of all three. Regardless, for the first time all year, solid hitting joined quality pitching and top-notch defense to allow the Nationals to flex a little NL East muscle.
How silly is Jim Bowden looking tonight, and I'm not talking about his run-in with the folks from Miami Vice? No I'm talking about Ryan Church, who went 2-4 again, with a grand slam home run and four rbi's. He is playing better defense than Brandon Watson, pummeling the ball in a way Watson never could, and getting on base more often as well. I believed last year that Church was a .280-20-80 kinda guy, and still do.
Ryan Zimmerman had a great game, going 2-5 with three more rbi's. He now has 9 in 14 games, on pace for 104 this year, his .222 batting average not withstanding. He's a kid, a rookie's rookie. He's going to look like Jim Rice one week and Condoleezza Rice the next. Enjoy the good and forget the bad; Zimmerman's the real deal.
Daryle Ward homered and doubled (not too surprising) and played solid defense in right (very surprising). Don't you think that Ward and Matt LeCroy will make a formidable platoon at first base if Nick goes down for any length of time this year? Wow.
Tony Armas continues to pitch well, well .... well enough I guess is a better term.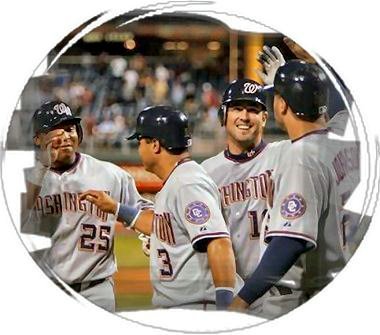 Six innings, seven hits, three strikouts, and a 3.71 ERA for the year. It looks like the team has two solid starters, which isn't a surprise. What is a surprise is that the two are John Patterson and Armas. That said, Hernandez will come around at some point, giving the Nats three real starting pitchers.
The Nationals have now won three in a row and stand at 5-9 for the year, and are just a game and a half out of second place. Ryan Church seems like he is destined to be that "extra" big bat that the team needed so badly against the Mets and Astros.
I don't think Bowden is going to lose his job over the DUI. I think he's going to lose his job because he sent Church down to New Orleans and kept Brandon Watson.
Comments:
The South Beach incident is just another nail in Bowden's coffin. If the new owners keep him around, they don't deserve to own the team. Hopefully, Stan Kasten will have the access required to hire a good GM. I like the idea of Frank Wrenn of the Braves, who did a good job as the assistant GM with the Orioles, until the Baltimore Weasel gave him the boot for being too competent.
Post a Comment
Links to this post:
<< Home