NATS' CONTINUE SPRING MISTAKES IN 3-2 LOSS TO METS
[April 3rd] -- The second opening day for the Washington Nationals ended the same as the first: with a loss. But, unlike the game against the Phillies last April, when the Nationals went down early on a Kenny Lofton grand-slam, the Nats were never more than two runs down to the Mets, and could have won the game.
They should have won the game.
The Nationals led the Grapefruit league this spring in "generally bad play," a problem that continued throughout opening day. While Alfonso Soriano made a couple of good plays on hard hit balls, he also let one, probably two balls drop in front of him. Livan Hernandez forgot to cover first on a double play attempt, allowing Tom Glavine to get back to the bag. Then came the BAD STUFF. With Alfonso Soriano on first, Ryan Zimmerman ripped a double down the left field line, leaving the Nats with runners on second and third with no one out, trailing the Mets by a single run. Well, that's what should have happened. Instead, Soriano tried to score from first and was thrown out at home. In the 9th, Jose Vidro singled with two out, but was thrown out trying to stretch it into a double. It wasn't even close. Replays, and replays of replays, show that LoDuca juggled the ball and Soriano was probably safe, but with the team down by a run, wouldn't you rather have runners at second and third with no outs for sure instead of maybe scoring the tying run? I'm not suggesting that Soriano is to blame, he was probably sent home by third base coach Tony Beasley. We'll call it a "team mistake."
Hopefully, the silly mistakes will end soon.
Livan pitched well enough to win, allowing three runs in six innings, striking out four while giving up six hits. Certainly, a typical Livan start.
Brandon Watson played much better than I thought he would, making a couple of quality defensive plays and singling in four at-bats. Ryan Zimmerman continues to amaze, singling and doubling in three trips, and (yay!) he didn't make any errors. Alfonso Soriano also got a couple of hits, and Jose Vidro went 3-3.
You would think that a team that amasses 12 hits and allows only three runs would win. And they probably should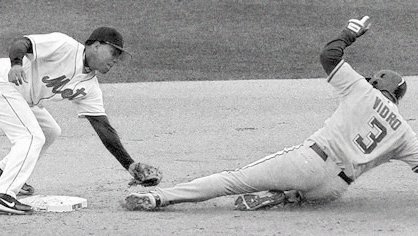 . To finish anywhere near .500 this year, the team needs to win most of the games started by Livan and John Patterson.
With the loss today, the team has used up April's quota.
That said, it was a great game to watch. It's only one loss and we'll hope for the best when John Patterson takes on the Mets' Brian Bannister on Wednesday.

NATS NOTES:
Marlon Anderson, signed last fall specifically for his pinch-hitting prowess, whacked his 157th career pinch hit ..... Ryan Zimmerman, who made 8 errors this spring, made a fine play on a slow roller nubbed up the third base line ..... Brandon Watson impressed the ESPN broadcast crew, especially Jeff Brantley ..... Brian Schneider went 0-4 and still looks very uneasy at the plate, another Nat hurt by his play in the WBC ..... Felix Rodriguez pitched 2/3rds of an inning, throwing only one pitch that wasn't a 92-93 mph fastball. Hopefully, he has more than that one pitch in his arsenal ..... Marlon Byrd was robbed of a hit by a great play by 3rd baseman David Wright in the 9th ..... Matt LeCroy's first AB as a National wasn't pretty as he struck out on three pitches against fire-balling reliever Billy Wagner ..... Frank Robinson announced following the game that Ryan Drese will start for the Nationals the first time they need a 5th starter, and that had he been healthy, he would have won a starting spot. Who would he have beaten out? Astacio? Armas? Hmmm....
Comments:
Maybe Soriano was safe, but going home with no outs was just plain dumb, just as Vidro's running in the ninth inning was dumb. The base running was supposed to improve this year with new coaches but it has gotten worse. Yes, this team is out of sync. The team needs a take charge manager who can fire up the team. Frank Robinson is sleep walking. Nick Johnson continues to struggle at the plate and there are no words to describe how pathetic Brian Schneider looks.
Post a Comment
Links to this post:
<< Home