NATS MINOR LEAGUE PITCHER OF THE YEAR A MAJOR SUCCESS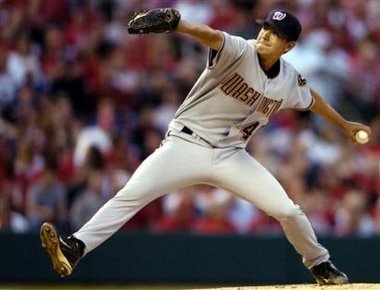 [April 28th] -- First the good stuff. Well, the good thing. If Ryan Zimmerman doesn't make his first error of the year on a ball in the dirt (a ball that Nick Johnson catches 99 times out of 100), rookie Mike O'Connor would have pitched shutout ball in his first outing in the "bigs." Instead, Jim Edmonds was able to get a swing in that first inning, and walloped O'Connor's pitched deep into the rightfield seats. In total, he pitched five strong innings, giving up three hits and four walks, but allowing no earned runs. An excellent job against a lineup full of studs.
O'Connor reminded me of a young Billy Traber, but with a much better curve ball. O'Connor never threw a "fast" fast ball, but he sure buckled a few knees, especially the left handers. His four walks were a bit high, but I think it most of them can be chalked up to nervousness. Heck, if I had to pitch to Albert Pujols when I was a kid, I probably would have peed in my pants.
Good job, Mike.
Okay, the bad stuff. It seems as though the team is just going through the motions without any real desire to win. Zimmerman's bad throw was excusable, especially because it was a very catchable ball. But he also dropped a pop foul at the dugout fence.
Ryan Church meandered under a ball at the warning track, but a lazy glove allowed the ball to pop back out and bounce off the fence. The player's heads seem always down, like they are always ready for something bad to happen, and it usually does.
On a lucky note, Jose Guillen threw out a runner at home plate, which was great, except he was safe. Really safe.
The longer that Bud Selig waits to announce The Lerner family as the team's new owner (I'm going with that assumption until he tells me otherwise), the worse this team is going to play. I mean, it's hard watching them play night after night, with them knowing that their world is about to be turned upside down at any moment. Bob DuPuy said that the new ownership will take over day-to-day control of the team in June. That's fine, but the players need the name. They need the name now. Their sanity depends on it.
It looks like we're going to measure success this year in "line items" in the box score; not so much that we won, but that we looked good while losing. And that's fine. Big changes are a' brewing. I can wade through the bad times.
They won't last long.
Comments:
Of course you realize that by saying "
I can wade through the bad times. They won't last long.
" that you have added at least two weeks onto this ownership charade?
Oh, how I agree with you about O'Connor! I hope Frank is true to his word and gives him the opportunity to pitch again. (And, that I get the chance -- by some miracle -- to watch!) I have a good feeling about this kid.
And, when will the Nats stop stranding players on base? I keep waiting for that last gear to click....
Post a Comment
Links to this post:
<< Home