REBIRTH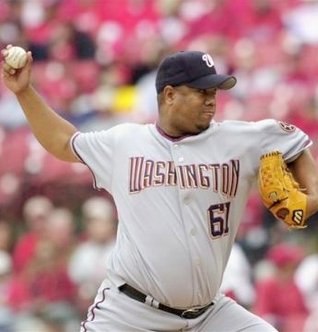 [April 30th] -- Sometimes, your team loses a game, and it's okay. Such a game occurred Saturday in St. Louis, where the Nationals lost to the Cardinals, 2-1.
The Washington Nationals, fresh off an 8-3 beating of the Cardinals, faced last year's Cy Young award winner in Chris Carpenter, as well as all-world first baseman Albert Pujols. All the Nats had going for them was an pudgy pitcher with an ERA around 7.00.
What a game.
Livan Hernandez didn't keep up with Carpenter, he blew past him. In eight innings, Livan allowed only three hits and one run, lowering his ERA to 5.49 for the year. Jose Guillen powered a long home run for Washington's only run of the game.
Jon Rauch took over in the bottom of the 8th, and suffered the misfortune of facing Pujols, one home run short of setting the all-time MLB record for most homers in April with 14. You knew, I mean you just knew, that it was going to happen. No power on Earth was going to keep that ball in the ball park. It was kismet.
So, Cy Young (or should I say his most recent reincarnation) pitched and Albert Pujols hit, and the Nationals lost. This was just one of those games where you have to give the opposition a round of applause. The Nats outplayed them for most of the game, and showed that they are capable of beating anyone. Livan Hernandez showed that all those innings over the years hasn't blown up his arm (though another similar start against the Marlins next week is a must) and that perhaps we can again count on him.
There are losses, and then there are losses. This one didn't hurt too much.
Comments:
Giving Pujols a pitch to hit with one out, the bases empty in the eighth and Rolen in sick bay was just plain dumb. Was Frank Robinson napping in the dug out again?
Farid, we have a new Cristian Guzman this year. His name is Brian Schneider. At least Guzman got above the Mendoza line last year with a hot September. Schneider may not be so lucky.
You're right, Phil, about Schneider. I'm worried too. He seems to always be around .250 come the end of the season, but who knows what the WBC may have done to him this year.
I think his only hope is his streakiness. Last year, he got really hot during late summer and went from .248 all the way to .293 before going cold the last month of the year.
If he's got one of those streaks in him, he'll be okay. If not, we'll have to christen him Gooz II.
Post a Comment
Links to this post:
<< Home