WARD'S EXTRA INNING BLAST GOES FOR NAUGHT AS NATS FALL 5-4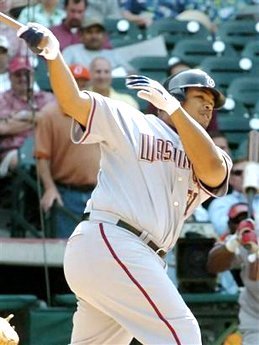 [April 10th] -- We've spent the first week of the season complaining about almost every facet of Brandon Watson's game. He's fast but he's been thrown out every time he's tried to steal, and got picked off first as a bonus. He makes good contact, but that doesn't mean much when seemingly every ball is popped out into short left field. Heck, I didn't much like his #00. But we never said much about his arm because we'd never seen it in action.
After today's game, I guess it's fair to say that we're still waiting for that first "real" throw.
Brandon Watson's 12th inning throw home from deep short / shallow center had so little on it that Astros' broadcaster mused that the ball was thrown so high that it would have hit the roof had it been closed.
So, now we have a center fielder that can't throw either.
Frank Robinson said that he felt the team needed another week of spring training a day or two before the season started. He was right. Mental mistakes keep hurting the Nationals. With Ryan Zimmerman on 1st and Royce Clayton at the plate, Eddie Rodriguez (subbing for the suspended Robinson), called for a hit-and-run. Zimmerman took off as planned, but Clayton missed the sign. Ryan was out and second, and Clayton struck out to end the inning.
John Patterson has been billed as the next great pitcher in the National League, something I have agreed with many times over the past year. In his second start, he was "okay," pitching well enough for a guy in the back of the rotation, but certainly not like an the ace he portends to be. In six innings, Patterson gave up three runs on five hits, striking out four. He gave up two solo home runs early in the game.
Yet again, the Nats got behind early, tied the game late in the contest, only to lose in the end. It's a pattern that doesn't bode well for the Nationals' chances this year.
Ryan Zimmerman continues to climb out of that embarrassing hole he dug late last week. He went 2-5 to raise his average to .259, but more importantly, didn't strike out. He made another solid play in the field

Daryle Ward was brought north with the understanding that he would be the odd-man out when Robert Fick comes off of the disabled list later this month. But after pinch-hitting a long double and a home run on successive days, he will be difficult to cut loose.

Jose Vidro continues to show what he can do when healthy, going 3-5, raising his average to 406.

Brian Schneider looks like he isn't going to win the Cristian Guzman "bad start" award after all, getting two hits for the second game in a row.
So, the Nationals limp home with a 2-5 record. It could be worse; they could just as easily be 0-7. Last season, they were 5-4 heading into their home opener. Baseball is about the "long haul;" nine or ten game stretches don't mean much. But this Nationals' team has showed that, while they have some talent, it isn't enough to keep the team in most games on most nights. Don't get me wrong, I love this team as much as last year's, maybe more. But unless we get all those back-end pitchers to have Esteban Loiaza type comeback years, we might be looking at a 70 win season.
I hope I'm wrong.
Comments:
I hope Ward can beat out Fick. Fick has a scum anti-team attitude that I just don't want (and Ward has always been the better hitter).
Post a Comment
Links to this post:
<< Home