THE WINDS OF CHANGE ARE NIGH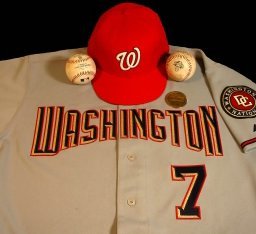 [April 18th] -- I came out west years ago to work for a small, local, camera company. After being a manager for the ever-growing Ritz Camera chain, I enjoyed the personal relationships that a small company afforded. I was happy and content for six years, until the owner put the business up for sale. At that point, I was in the top 5% in store volume and personal sales. The ownership change wouldn't effect me. That said, every measurable production statistic of mine took a nose-dive during those four months of indecision. Finally, the chain was sold. To Ritz Cameras. Crap.
The point is, some people do well with uncertainty, others don't. I'm not sure that the Washington Nationals we're watching today (players and management both) are producing at a level commensurate with their ability. Some players, like Nick Johnson and Alfonso Soriano, aren't having a problem, others are. I'm not suggesting that the team would be in first place if the new management had been in place since last winter, but the team likely would have been playing at a higher level.
It's probable that new ownership will be announced this week; Friday is the day most are suggesting, and it's just as probable that the Lerner family, recently threatened by MLB for being top heavy in old white men, will become the new owners. Typically, new ownership takes things slow. They take their time, soaking in the atmosphere, learning the "lay of the land," trying not to make any quick and potentially unnecessary changes. That would work in most situations, but not ours. The Lerner's need to hit the ground running, giving hope to both the fans and the players that the "wandering in the desert for 40 years" part of the team's history is over.
Instant stability. Now.
If I were advising the Lerners' as to how to proceed, I would say this: "Make it known immediately that a new day is dawning in Washington, that whatever happened over the past year and a half is now history. Tony Taveres has often said that he has stayed longer in D.C. that he wanted. Fine. Let him go. Give him some flowers. Jim Bowden has to go too. Give him the middle finger. Tell Frank Robinson that his loyalty to the organization is greatly appreciated, let him manage until the end of the year, then bump him up to some big-title, little-responsibility position. Don't get me wrong, I like Frank, but changes have to happen. I would then sign somebody to a long-term deal, showing a willingness to spend money. It doesn't matter who -- Alfonso Soriano -- Jose Guillen -- even John Patterson. Make changes everywhere -- they all don't have to be good; some can be of the 'moving this over there' variety. But the city needs to know that the 'old days' are gone."
Hopefully, this is the last week of uncertainty in Washington. Well, uncertainty in ... baseball ... in Washington. After all, Lerner can't take care of all that George Bush .... Harry Reid ... uncertain...
Forget it.
Comments:
No one would shed tears over the departure of Tavares and Bowden, but as for Frank Robinson, whatever you might think about his game management, he clearly has the respect and loyalty of the players. If the new owner is going to keep this group of players, Frank has to stay.
For whatever failings Frank Robinson has as a field manager, his eye for talent is actually pretty good (see his reactions to Bowden's grand pronouncements about the latest uber-OF he's uncovered ... most often met with disdain by Frank). I'm not advocating him as a long term GM (he's 70 and doesn't need that headache). But he would be a really good Special Assistant to the GM with scouting responsibilities in California. Combine that job with a community relations gig that keeps him around DC for a week or two a month and you can reward a loyal lieutenant and keep his presence in the organization.
Excellent post, brian. I agree with your suggestion for Robinson.
The new ownership group needs to make a greater outreach to the DC community - something like MLB's RBI (Reviving Baseball in the Inner Cities) program. In addition, greater ties to DC's baseball past need to be forged. The Phils had Del Unser and Mickey Vernon (who never played for them, unlike Unser) throw out first pitches at last year's opener. Something like that needs to happen with more regularity at RFK. Restore the DC Hall of Stars; what's been done with that is a travesty. Get Cecil Travis up there in some capacity; he's the last surviving member of a pennant-winning Washington baseball team.
Sure, the two Washington AL franchises weren't often successful, but that doesn't obscure the fact that they had some good teams and some very good players. People's memories of them didn't go to Minnesota or Texas.
If you want to be cynical about it (and given the state of this franchise, why not be cynical?), nostaligia and retro sells.
Post a Comment
Links to this post:
<< Home