WOW. HOW'D HE DO THAT?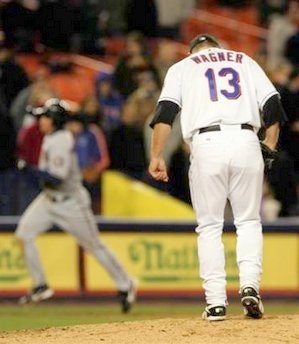 [April 5th] -- Forget everything else for a moment. We have been saying for some time that third baseman Ryan Zimmerman is going to be a special player. Forget the "going to" stuff. Zimmerman is special. period.
Facing all-world Billy Wagner in the top of the 9th, Zimmerman launched a 3-2 pitch so far and so fast that it had cleared the outfield fence before a stunned Charley Slowes could even describe it. Amazing.
It reminded me of so many of Frank Howard's homers; a low line drive that could have gone through a cement wall. Zim also made a superb play in the 7th inning, diving to his right to nab a hard hit ball, then throwing across the diamond to make the out. It's beginning to look the 2006 Nationals will be known as Ryan Zimmerman and "those other 24 guys." On to the game.
Oh - my - gosh.
I thought the game started at 8:00 pm, so I was very surprised when I fired up MLB's gameday audio on my computer and heard the tail-end of Carlos Delgado's long home
run to right to make it a 4-0 game in favor of the Mets.
It was the third inning. My son asked me to go play some baseball, and I was about to say yes, figuring that this team just isn't very good and coming back. But something inside reminded me that this is a new year, a new team.
I sat back down and turned up the volume.
It got worse.
Brian Bannister, Floyd's boy, held the Nats hitless until the 6th inning, when Nick Johnson followed a Jose Vidro double and a Jose Guillen hit-batter with his first homer, making it 4-3.
Then things went silent.
Nothing happened for the next three innings until Zimmerman stepped up to the plate in the 9th. Chad Corder
o tried his best to keep the game from going into extra innings, loading the bases with two out. Luckily, Jose Guillen snared a sinking line drive to end the threat.
Jose, can you see? (how far you hit that ball?)
Poor Jorge Julio. His first appearance away from the dim lights of Baltimore was a disaster. With Jose Vidro on first, Jose Guillen poked his first homer of the year, opening the floodgates that would allow the Nats to score five runs in the 10th. To be fair (and when it comes to the Mets, it's no fun being fair), only two of his five runs allowed were earned, th
John Patterson pitched poorly, giving up four runs and four hits in four innings, striking out seven and walking three. I originally thought Patterson was battling the inclement weather more than he was any difficulty with his command. However, Patterson reported a tightness in his forearm that was painful enough that manager Frank Robinson said he would likely miss his next start. Great. Felix Rodriguez balked in a run in the 9th, the only run given up by the bullpen all night.
Afonso Soriano, who was beaned by Brian Bannister, was pulled from the game in the 6th inning. It had nothing to do with his being hit. He popped a ball up in the inning, and watched from the batters box as the ball went foul .... then fair, where it was caught by catcher Paul LoDuca. Robinson warned the team in spring: run the bases or get yanked. Soriano didn't run. Soriano got yanked. After the game, he said that he understood why he was pulled, and that he was warned.
At least he's honest. He's lazy, but he's honest.
So, for the second year in a row, the Nationals begin the season 1-1. They played an excellent game on Wednesday, showing that they were able to come back from a large defeceit and win going away. I think that this game was reflective of how this season will play out. If the big boys, Nick and Ryan and Jose, play well and provide some offense, the team will do just fine.
It was a great night, but remember that Pedro goes tomorrow night for the Mets. As Hans Solo once told Luke Skywalker, "That's great! Now don't get cocky kid!"
Brandon Watson went 0-3 and played like Endy Chavez. He hit two fly balls and twice swung at the first pitch he saw. How many of these games will it take for Ryan Church to be an ex-Zephyr?? ..... Jose Vidro got two more hits and continues to show that his knee is as strong as it's been in three years ..... Though Nick Johnson whacked a homer, he still continues to struggle; he went 1-4 but struck out two more times ..... Marlon Anderson lost a sure base hit when rookie Anderson Hernandez made an acrobatic catch of his squibber in shallow right field ..... Brian Scneider went 0-4 and had better start hitting soon or risk being awarded the Cristian Guzman memorial bad-bat.
Comments:
I don't think Patterson pitched poorly. Lordy, he stuck out six in the first two innings. It was very cold and the Mets wasted a lot of his good pitches with foul balls. He had good stuff. Next to the Yankees, the Mets have the most awesome lineup in baseball. There is not an easy out until the eight hitter.
Post a Comment
Links to this post:
<< Home