AMID THE GLOOM, HOPE SHINES THROUGH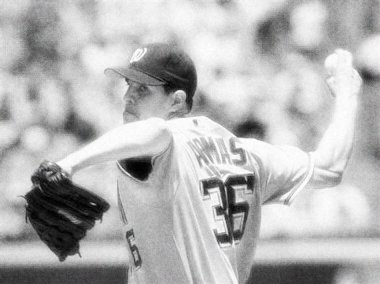 [May 15th] -- Because the Nationals are winning a game a week right now, we can't look at single win in a positive way ... after all, even the worst teams in the major leagues win every once in awhile. No, we have to look within the win in the hopes of finding some good news among the endless stream of bad.
Tony Armas pitched another gem, allowing only three hits in seven innings while striking out six. He is now 4-2 with an ERA of 3.02. This is the Tony Armas that Omar Minaya envisioned as the key to the franchise's starting rotation. Bowden (or his replacement) is in a conundrum. If Armas continues to pitch well, he will become a hot commodity on the free agent market this winter. If the Nationals, however, sign him to a long-term deal, they run the risk of him breaking down again and essentially throwing all that money away. That said, Armas is on pace to win 16 games this year; it's a risk worth taking. He's only 27 years old.

Ryan Zimmerman has done all that was asked of him so far this year, with the possible exception of hitting for average. But it looks like he's beginning to correct that too. Zimmerman was batting .239 just a couple of series ago, but five hits in the last two games has seen him up his average to a very respectable .266. Zimmerman is on pace to hit .266 with 25 home runs and 92 RBI's, a yeoman-like effort for a guy less than a year out of college. The only asterisk among his high-caliber stats is the fact that he is likely to strike out 150 times this season. While that sounds very high (and it is), consider the fact that just two weeks ago, Zimmerman was heading for a 200+ strikeout total. But he is learning to lay off the outside fluff-stuff and as a result, he's striking out less. If he continues to improve, he may end the year with only 110-120 strikeouts.
The starting rotation, threadbare as it is, is beginning to show some signs of maturation. This assumes, by the way, that Livan Hernandez is traded at some point for prospects. John Patterson has proven that he is a top-of-the-rotation stud. Tony Armas Jr. has always said that if healthy, he deserves to be part of the team's rotation. He's right. Jon Rauch has been lights-out in the bullpen, and he has the "stuff" that allows him to translate that success to the rotation. Mike O'Connor certainly deserves the chance to stay in the rotation for the rest of the year. The fifth spot could be nabbed by one of the members of the revolving-door group of Ryan Drese, Pedro Astacio and Ramon Ortiz. That has the potential to be a pretty solid rotation.
The Nats' 8-1 win over the Braves on Sunday was fun. It didn't mean a thing, but it was fun. Hopefully, we'll have some more fun at some point this week.
We'll see.