GUZMAN GOING UNDER KNIFE MONDAY, SAYS "SEEYA" TO 2006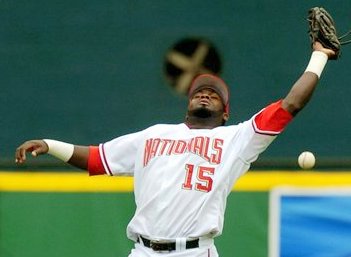 [May 5th] -- Cristian Guzman trotted out towards RFK's infield knowing that today would be a "make or break" day for him. After spending the first six weeks of the season rehabbing his shoulder's "slap tear," he was going to test it for the first time in near-game conditions. A Nationals' coach was to hit several balls deep in the hole at short; Guzman's responsibility was to make the grab, spin and throw a strike to first. Easy for a healthy shoulder, but almost impossible for a damaged one.
I didn't' take long before it became obvious that all of Guzman's hard work the past month didn't matter. The team announced early Friday afternoon that Guzman would undergo season-ending surgery on Monday. Said Guzman, (like he really wrote this -- I'm sure it was his agent) "I have worked day and night the last two months to rehab my shoulder and get back on the field, but unfortunately, it did not respond to the extent we'd hoped. Monday's surgery will allow me to be a healthy and contributing factor to the Nationals in 2007 and beyond."
It will be interesting to see how Stan Kasten and whomever the new general manager will be acts/reacts to the shortstop situation. Since signing that four year contract in October of 2004, Guzman has frittered away half of it, giving the team no real value in exchange for the contract's first eight million dollars. There is no real prospect in the farm system. Ian Desmond is considered "the guy," but "the guy" is hitting .167 with 27 strikeouts in just 84 at-bats at 'AA' Harrisburg so far this year. Brandon Harris can play short, but most within the organization don't believe he can play it well. That leaves just Guzman to play the position in 2007.
So, unless the Lerners are willing to pony up some cash to buy the team a real shortstop, Cristian Guzman is going to be the guy next year. His injury, then, has done nothing but push the "what do we do with Cristian Guzman?" question back another season.
Good luck, Cristian. See you next spring.
Comments:
With Guzman gone for the season, this makes Bowden's dumping of Jamie Carroll, the heart and soul of last year's team, even more painful. Let's send Damien Jackson to the Rockies and get Jamie back here, where he belongs.
If you're looking for more information about SLAP tears from a patient's point of view, check out www.slaptear.com !
Post a Comment
Links to this post:
<< Home