NATS PLAY LONG BALL AGAIN, BEAT HOUSTON 4-1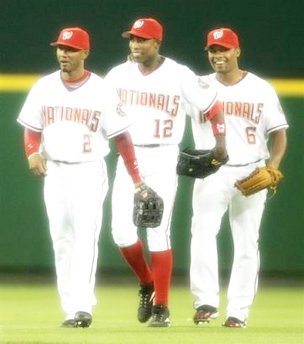 [May 24th] -- It was a nice win.
The Washington Nationals are now winners of three of their last four games, and are ever-so-slowly beginning to show some signs of life. Don't get me wrong; I'm not expecting ten game winning streak, but with the season a quarter finished, the Nats have yet to play even a week of solid baseball. Sooner or later, it had to happen.
After starting the season 0-4, Ramon Ortiz won his second game of the season, holding the Astros to just six hits and one run in seven innings as the Nats beat the Astros, 4-1. Reports are surfacing that Ortiz has relied more on location and less on speed the last couple of outings. Whatever the reason, there has certainly been a difference in his ability to spot the ball recently. Hopefully, he can pitch at or near .500 for the remainder of his tenure in Washington.
What's with Damian Jackson? Starting in centerfield because the team's regular center fielder, Ryan Church, is in Harrisburg these days, Jackson hit a home run for the second consecutive game, a solid shot to left center. A month ago, I was beginning to think that Jackson was a bust -- yet another poor choice made by Jim Bowden. Hmm. Maybe I was wrong. Now, I've always been a Daryle Ward fan; in fact, I tried to talk Jim Bowden into trading Nick Johnson early in spring training and going with a Ward / Matt LeCroy platoon (he didn't listen, of course). Ward hit his second pinch homer of the year waaaaaay into the upper deck in right field.
Alfonso Soriano hit his 16th of the year, and is proving all of us wrong regarding his ability to hit homers at RFK. I think the average of all the blogger predictions for Soriano was about 24-26 home runs. He should get there before the all star break. Dave Sheinin said in a chat yesterday that he didn't believe the Nationals had any chance of resigning Soriano unless the team offered him Miguel Tejada like numbers, and that aint gonna happen. So will the Nats trade him for prospects, or let him have a monster year in Washington only to lose him to free agency? Stan Kasten is shrewed enough to make the trade. Heck, even Bowden would pull the trigger on that deal.
So, is this short respite away from the loss column simply a correction that was bound to happen, or have the Nationals turned the corner, and are now ready to play competitive ball for the remainder of the year?
I don't know. We'll just have to wait and see.
Oh, and by the way: I'm still bitter.
Comments:
A quick comment on bitterness and a defense of cynicism. I've been reading a lot of the Nats blogs back starting from the days of "What Barry had for Lunch at Panera," and I don't think your comments lately are any more bitter than other stuff. Leaving aside the fact that bitterness & cynicism are sort of blogosphere stock-in-trade, it's not bitter to point out that:
1. the team, as currently consituted would have to be INCREDIBLY lucky to seriously contend for a playoff spot, and
2. even if they did, the team has no depth of prospects to ensure that such a lucky run would be at all sustainable beyond the sort of six-week "flash in the pan" that we saw last year.
Look, I think everybody would love to fall in love again like last summer, but the reality is, in five quarters of a baseball season, the Nats have been incredibly good for one out of five quarters (the late May - July 4 run), passable for two quarters (first quarter and fourth quarter last year) and Stink-o for two quarters (third last year and the 17-29 start this year). That's not bitter, that's observed reality. The "let's build around Alfie" stuff doesn't recognize the reality that this team is probably at best two, more likely four years away from competing in the long term. In that mode "trade 'em all" seems like a good strategy. NJ, Schneider and Cordero could all bring at least two quality prospects each in trade, Soriano, Vidro, Livan and Guillen could probably bring that much or maybe more. The only folks on my "no" list are Zim, Rauch, Day, Patterson, and Majewski. And the last four are only because I don't think you can get equal value for them now. And of course, at the top of my "No" list is don't let a drunken track-suit-wearing used car salesman make the deals for you. So, if you're bitter, I guess I am too. Let's get the future started now.
With you all the way. Why keep guys now who will probably be over the hill by the time help arrives? I don't understand that concept. Look at what the Tigers did; they "blew up" the team in '03, lost, what, 120 games that year, and are now blowing away the competition, largely with players from the farm system who they obtained by trading away veterans. If Kasten et. al. aren't going to spend in the free agent market, then why not put the team in a position where there are two REAL prospects ready to vie for each open position?
It makes too much sense not to do.
Farid
Post a Comment
Links to this post:
<< Home