OH BOY, O'CONNOR!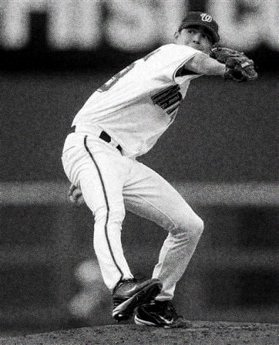 [May 25th] -- Don't get giddy. They only got six hits.
That said, the Washington Nationals continue to play well during their first real "hot streak" of the 2006 season. After winning their last two games against the Baltimore Orioles, the Nats have taken two out of three from the Houston Astros and have now won four out of their last five games.
It's about time.
It was a weird game, that's for sure. Jose Guillen tried to scratch his eye with his batting glove on, and well, he scratched his eye. Mission accomplished, I guess. Wiki Gonzalez got ker-plunked on the head by a Preston Wilson backswing. Both players were gone long before the game was over.
The most weird (weirdest?) thing to happen was the brain cramp by all-star Roy Oswalt. Damian Jackson, who continues to play well as the team's de facto center fielder, led off the 6th inning with a double, and later reached 3rd with two out. With an 0-2 count. Oswalt lifted his leg and ..... walked off the mound towards third base. My son said, "Wasn't that a balk, Dad?" I thought so. So did Oswalt. However, it took a huddle by all the umpires to get it right, but they did, and Jackson was awarded home plate, which tied the game. To his credit, home plate umpire Larry Young, after watching a replay, said he couldn't believe that he blew the call.
The Nationals shouldn't have won the game. The Astros trotted out Oswalt to start the game, and brought in Brad Lidge to keep the game close. He didn't. Lidge gave up three runs on three hits without retiring a batter. How often does that happen? But the odds were even more lopsided than that. The Nationals were throwing their version of David against the Astros' Goliath. Mike O'Connor, who just a month or so ago was pitching in the Pacific Coast League, was starting only his sixth major league game. With all that going against him, O'Connor came through. Again. The 25 year old gave up just three hits and one walk in six strong innings, allowing only Morgan Ensberg's 16th home run of the year. The only knock against O'Connor this year has been his control (15 walks in 28 innings), but he allowed just one walk against Houston. His 2.65 ERA is now the best among the team's starters.
O'Connor is showing every time he takes the mound that he has the potential become an important part of the Nats' rotation. I love the sound of a starting rotation that would include John Patterson, Jon Rauch, Mike O'Connor and Tony Armas Jr. They are all young, and have proven that they can do the job. Shawn Hill, who will probably be making a start for the big club one day soon, showed this year at Harrisburg (2.64 ERA in 44 innings) that he has the stuff to at least get a "look-see." That's five young starters, and the Potomac troika of Colin Balestar, Mike Hinkley and Clint Everts are still learning their craft, giving the team depth and even more hope for the future.
Now's the time to move Livan. Pedro Astacio will be available next month and Ramon Ortiz has gotten his "groove" back. The Nats will have dozens of opportunities to trade Hernandez, and the team will likely get two, perhaps three prospects in return (probably one can't miss, one could miss, and one in need of a "change of scenery." The bullpen is doing it's job and hope is a word that is once again in the Nats' vocabulary.
It would be easy for Jim Bowden and/or Stan Kasten to put down the telephone and stop opening other team's emails now that the team is starting to win consistantly. Wrong. Now is exactly the time to make those deals for prospects, when the bait is plump and fat and wiggly.
I'm still bitter, but it's a happy kind of bitter these days.

Comments:
Wow!! Ted is really cheap. He won't spen any money on new players and won't kick is to imporve the stadium with underground parking and a limestone exterior......I guess Bud took so long to pick an owner because he wanted to know who had the tightest fist..oh well...it'll still be better than Rfk.
Post a Comment
Links to this post:
<< Home