IS THIS SMILE ..... WORTHWHILE?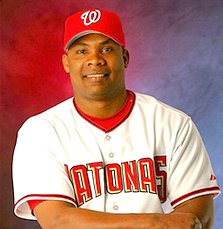 [June 13th] -- Yeah, yeah ... I know. The Nats lost. I was able to watch the game on my local Fox SportsNet channel -- the Rockies are our "local" team here in Idaho, though Major League Baseball seems to be clueless to the fact that Idaho considers itself part of the Pacific Northwest and Not the Intermountain West. Hmmm.... isn't there an MLB team in Seattle? Well, kinda.
As I said, the Nationals lost to the Colorado Rockies, 4-3. But there are losses, and then their are losses. Tonight's game was more like a game we didn't win. Ramon Ortiz continues to pitch well, though he took the loss and broke his personal five game winning streak. Yeah, he did give up four runs in six innings, but he gave up seven hits, a tolerable number for his innings pitched. He continues to dominate at times, striking out another seven batters. If that was his worst outing in a month, I'd say he'll be just fine.
I try to refrain from whacking on Frank Robinson, but what was he thinking last night? Although it obvious to everyone that Ortiz didn't have his "good stuff," he nonetheless kept the Rockies at bay for most of the night, before slowing down those last couple of innings. But instead of replacing him in the 7th inning, he allowed him to take the mound, and, well, bad stuff happened. He must have been at or near 100 pitches by then. Why did he leave him in? That was bad, but even worse, Robinson left Matt LeCroy, a certifiable long-ball threat against lefties, on the bench in the 9th inning and instead chose to bat Damian Jackson, all 150 pounds of him, as the pinch hitter with the team down only one run. Why?
What's happened to Alfonso Soriano? Suddenly he's shed his Superman togs for something more akin to the Boy Wonder. Some would say that it's just a slump, that he certainly is deserving of a "bad spell," and that he'll be back. And they'd be right, too. But then again, maybe it's more than that. Isn't it just as likely, perhaps more so, that after 65 games of overacheiving, Soriano is starting to come back to the pack, and will end the season with numbers more typical of his career average (around .280-30-100)? Although I hope that isn't the case, I think it is. A veteran player doesn't get traded from one of the smallest ballparks in the league to one of the biggest and increase his power production. No, I think we're seeing the beginning of a natural slowdown, a evening-out process that is probably far overdue. Do you remember Brad Wilkerson's start last season? Thirty or so games into the season, he was on his way to obliterating virtually every career high. Then something happened. He stopped hitting for the cycle. He kept striking out. By the end of the year, he put up numbers not atypical for his career. Maybe Soriano is pulling a Wilkerson. And if that's the case, it's time to trade him now, before he begins to lose his uber-value.
Okay, so what do we do with Jose Guillen? He's been back only two games and has made a big difference in both. He got another two hits against the Rockies, got two more RBI's, and made the game interesting with an opposite field home run in the bottom of the 9th. The Nationals are much better team with Guillen healthy and in right field. Too bad he'll be gone shortly, that is, if you believe Bill Ladson. In his last mailbag, Ladson virtually guaranteed that Guillen's days in Washington are numbered. Ah, poor Mr. Guillen. He demanded a five year, $50 million dollar contract this spring, and the team countered with a more reasonable offer. He turned it down. Now, after a slow start, he's not wanted in D.C., and probably won't bring more than a mid-level prospect, someone not likely to make a real difference at the major league level. Even Guillen is now admitting that he might have made a mistake in not taking the offer, but "oh well." Now it looks like he'll be gone sometime soon, playing for yet another team in another city with no hope of earning any kind of competitive multi-year deal.
Oh well.
Comments:
With Guillen's temperament, might he be considered something of a risk in other clubhouses? Frank seems to have connected with him, but other managers, not so much. Of course, that might make him something of a risk for a long term contract for the Nats, if Frank retires before the end of Guillen's contract term.
You're right, and that's why Guillen made a big mistake by not signing that more-than-fair contract this spring. Now, no one will want him and he'll continue to be "the" wandering soul of baseball.
Post a Comment
Links to this post:
<< Home