MARRERO SIGNS, NATS HAPPY (ME TOO)
[June 27th] --
So far, so good.
The Nationals announced on Monday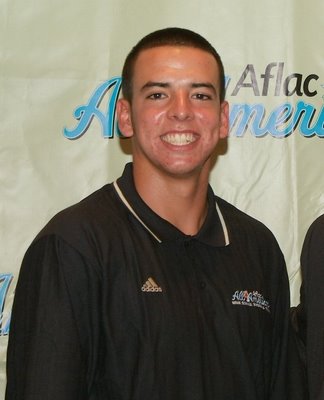 that they have come to terms with Chris Marrero, their
first
first round draft pick in 2006, and will sign him when he visits RFK next week. After some batting practice with the "big boys," Marrero will report to the Nationals' Gulf Coast rookie team. In an interview earlier today, he said he'd probably play one of the corner outfield positions this summer. Scouts and "people in the know" are comparing him to Miguel Cabrera of the Marlins, and Carlos Lee of the Brewers. "If he fills out," says one scout, "he could be the next Pat Burrell." (is that good or bad?)
Cool. Both of the Nationals' first round picks have been signed, and signed quickly. That's the story, of course. These two kids might end up being the next Joe DiMaggio, or the next Joe Charboneau. You just never know. But one thing we do know, and we needed to know it now during these dark days, is that Stan Kasten is a man of his word. During the past few weeks, I have been casting barbs at the new Nationals' ownership group for refusing to spend money on free agents. "We'll spend the money on building up the farm system," or so they said. Well, they were telling the truth. It can take weeks, even months to come to terms with a first-round draft pick. Remember the J.D. Drew fiasco? Drew refused to sign with the Phillies and re-entered the draft, signing with the Cardinals the second time around. And, if the team doesn't pony up the appropriate cash, the kid simply goes to college.


Not this time.


It was almost as if Bowden said, "What'll it take, kid?" and then he simply wrote a check. Just like that. So now, no longer is this franchise into drafting only those players they can sign. They now draft those players who can play baseball. And that makes a big difference. When I lived in Seattle many years ago, then Mariners' owner George Argyros told his GM to use the team's #1 pick to grab a player they could afford to sign. The Mariners selected Al Chambers. The Tigers, selecting after them, took Kirk Gibson. See?


It'll be interesting to see how things work out. It won't be like last year, when it took all of two weeks to realize that Ryan Zimmerman was the team's future at third base. David Wright, the Mets' star third baseman, was just 22 when he first played in the major leagues. He completed four years in the minors. So, if Marrero, or Willems are as good as Wright, we can expect to see them playing "up here" sometime in 2010. Heck, by then, the new park won't even have that "new stadium" smell anymore.


The future is looking solid. Now, if we can only fix the present....
Comments:
Taking a player in the draft right out of high school is a gamble and I think comparing Marrero to Miguel Cabrera is a huge stretch. Zimmerman was a different story coming out a strong baseball progame at UVA where he had played against first rate competition.
You're right of course about it being a gamble. I would much prefer drafting college kids, even if their "upside" may not be quite as high. I've never like kids who use college as a chip to use against the clubs. They should either declare themselves eligible and go pro or go to college and stay out of the draft. They could say, "I have to go in rounds x through y, or else I'm going to college. That would work. That way, if a kid's bottom round is the 3rd, and a team wants to draft him in the 4th, he knows the kid won't sign.
I was also stunned to find out that team's couldn't trade their draft choics (a reader pointed this out to me last year). The Nationals should have been able to (if they so chose), to trade their #15 and #22 for, say, the #4 in the draft if that would have helped the team.
That upside stuff is Bowden and Kasten using excuses for why the didn't draft any college players. Let's face it, high school players come cheaper. That's what it is all about, not upside like they claim. Are they trying to tell me that Zim doesn't have much upside? I'll bet he has more upside than Marrero.
Post a Comment
Links to this post:
<< Home