NATS OVERPOWER BREWERS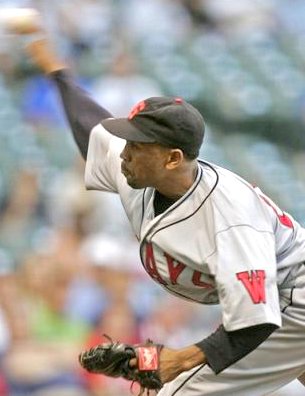 [June 3rd] -- A wonderful thing happened during Friday night's game against the Milwaukee Brewers. With a runner on base, Dana Eveland intentionally walked 3rd baseman Ryan Zimmerman so he could face Marlon Byrd. Talk about coming a long way in a very short time. Just a few short weeks ago, it was Jose Guillen that was being walked intentially to get to the rookie third baseman. More often than not, Zimmerman obliged by swinging at an off-speed pitch low and away, either striking out or popping out weakly to first base.
No more.
Zimmerman, who along with Milwaukee's Prince Fielder and Florida's Hanley Ramirez, is one of the league's premier rookies. Until a few weeks ago, Zimmerman was "hit or miss," either rocketing a double of the wall or meekly striking out. Suddenly, though, he "got it." He bunts for base hits. He hits behind the runner, allowing them to advance. With runners of third, he just tries to hit the ball far enough to bring the runner home. His on base percentage is rising in direct proportion to his decrease in strikeouts. He hasn't gone more than two games without a hit since the beginning of the season. And now the opposition is pitching around him. He's arrived.
Ramon Ortiz has come all the way back from that horrid early-season start. The dimunitive pitcher has won four games in a row and has evened his record at 4-4, and will see his ERA dip below 5.00 for the first time in three seasons with another good outing. The main difference between the 0-4 Ramon Ortiz and the 4-0 version is his ability to overpower batters. After striking out just one or two per outing the first month of the season, his fastball is again dominating, evident in his seven strikeout performance Friday against the Brewers.
The Nationals are lucky that they didn't have to face Ben Sheets on Friday; Eveland has been his relacement over the last couple of weeks, and certainly isn't pitching anywhere near Sheets' capabilities. In fact, the average ERA of the three pitchers the Nats will face during this series is an astounding 7.29. The Brewers might have the better record, but only for the moment. The Nationals are winning now, and the Brewers are going in the opposite direction, having lost their last six games.
NATS NOTES: Jose Vidro got three hits on Friday, and makes my whining about the return of his knee problems seem kind of silly .... Mike Vento went hitless for the first time since being recalled from class 'AAA' New Orleans .... Brendan Harris has been recalled from AAA New Orleans, but as long as Royce Clayton is playing as well as he is, he'll probably not get much of an opportunity to play (again).