PHANTASTIC!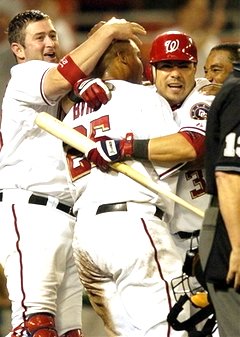 [June 10th] -- I was reading one of the many Phillies' blogs this morning, and came across one that excoriated Brett Meyers for his effort last night, angry because the Phillies' ace gave up more than three runs for the first time in almost a year.
Gee, just a month ago, Nationals' fans would have accepted Meyers' effort as a "solid outing." My, how times have changed.
The Nats continued their climb back to respectability with a 9-8 extra inning, rain soaked win against the Phillies, who have now lost two in a row after sweeping the first place Diamondbacks earlier in the week. The Nationals have the best record in the bigs since May 18th (17-5) and are now tied with the Atlanta Braves for 3rd place in the National League East.
The Nationals' turnaround comes as a big surprise to me, considering their premier slugger from last season, Jose Guillen, and their top pitcher, John Patterson (sorry Livan), have not been part of the surge. No, instead, the Nats have played championship ball with three infielders, Alfonso Soriano, Damian Jackson and Marlon Anderson chasing balls down in the outfield. Is their recent success a "leveling out" of the bad luck the team withstood during the first two months of the season, or have they suddenly figured out how to play baseball again? The answer is simple, of course. The Nationals weren't as bad as they played in April and May, but neither are they as good as they are playing now. Even the very best major leaguer hitters can go hitless over five or six games; so too can a team lose for a couple of months before suddenly going on a long winning streak.
Don't get me wrong; I'm downright giddy at what the Nationals have done the past few weeks. But it had to happen. The Nationals were certainly not as bad as their play earlier in the year, and luck, chance, random outcome -- whatever you want to call it -- finally came to their rescue and evened things out a bit.
So where do they go from here? They are now only four games under .500 and on pace to win 76 games. Most of us bloggers pegged the Nats win total for 2006 somewhere between 74 and 81 wins. It looks like we were right on target. Thus far, among the team's roster, no one is playing particularly worse then I had imagined, and several players, Soriano, Ryan Zimmerman, Mike O'Connor, Royce Clayton, are playing better (though Patterson and Guillen have been injured). Perhaps then, the Nats might end up at .500, perhaps a game or two over.
This winning streak, and the increased attendance that it will surely bring, will make it difficult for the Nationals' owners to "bite the bullet" and trade veterans for prospects. The way the team is constituted, the Nationals could be "good enough" for some time to come, but never great, never in real contention for a playoff position, not if the team won't be persuing free agents as Stan Kasten has said.
It'll be interesting to see if the new owners will be willing to break up a surging team to build for the future. It'll be a tough decision, regardless.
NATS NOTES: Bill Ladson sounded concerned that Jose Guillen has rejoined the Nationals clubhouse. Ladson noted that this amazing run began when Guillen's injuries forced his transfer to the disabled list and away from Washington. Interesting. Remember, the Nationals splendid first half run in 2005 came during Guillen's "honeymoon" in Washington, when both he and his teammates were on their best behavior. Once he began to explode, so did the Nationals' chances at winning the NL East. If the team suddenly beging to lose again, Guillen might find himself traded very quickly.