YUCK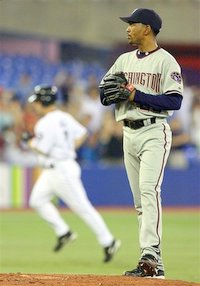 [June 28th] -- I don't want to complain about the Nationals' latest loss, a 6-0 drubbing at the hands of "Canada's team," the Toronto Blue Jays. Because the losses are becoming more regular, lashing out at the team's play, or desire, or even their uniforms, won't matter very much. You know the changes are coming, and they're probably coming soon.
My father, who would have celebrated his 89th birthday today, used to say to me, "you have to act while the iron is hot!" It must have made sense in the 1930's, because I never understood what he was trying to tell me growing up. But I understand now. When you need to make a choice, you do it at a time that's most advantageous to you, and not the other guy. Sigh. I wish my dad had talked to Jim Bowden. A month ago, Alfonso Soriano, Tony Armas Jr., Ramon Ortiz and a Livan Hernandez would have brought the Nationals a bevy of prospects in trades. They were all playing very well then. Today, Soriano continues to look confused at the plate. Armas is on the disabled list, and no one is exactly sure what to expect when Hernandez takes the mound. Ortiz isn't pitching poorly right now, but neither is he winning. I'm afraid that Bowden waited too long before unloading his veterans. Soriano and Armas couldn't remain
that
hot. Even though Livan was pitching poorly, no one would have thought that we were seeing the beginning of the "downside" of his career. Bowden said he would wait until another team "really needed" one of his players, before making a deal. By waiting, the Nationals have shown their hand to the other team's general managers. Instead of having all face cards, are deck is full of two's and three's.
6-0.
NO runs. SIX hits. THREE errors
. Zimmerman continues to slump. Will the Nationals be able to pull themselves out of this nosedive, or will it take a reshuffling of the team's deck? If they play another game like Tuesday's, we won't have to wait long to find out.
Nats Notes: Jose Vidro got two hits against the Blue Jays and has raised his average back up to .310. We're not seeing a lot of power out of the portly second sacker, but it is almost July and he's still healthy. That's an amazing thing. I'd say the chance of Vidro finishing the season in Washington is less than 10%. The Yankees Robert Cano was placed on the DL on Tuesday .... might the Yankees be willing to take a gamble? .... Ryan Zimmerman is 1-25 since his walk-off homer two Sundays ago against New York. Did that hit affect him? Would it have affected you? It's a bump in the road, no more (though I wasn't thrilled with that throwing error) .... Clayton batted third again, though this time Robinson's gamble failed his shortstop went hitless.
Comments:
My guess is that when all of these trades finally come down, most Nats' fans will be complaining because of the relative insignificant return the team will receive for the departed veterans. Livan for Lastings Milledge? If the tables were turned, I wouldn't make that trade. To get Milledge, we'd have to give up Vidro and Livan, and then get one or two "iffy" prospects. And Soriano? I read over at the Ball Park Guys several fans saying that Dallas McPherson and another prospect "wasn't enough" for Soriano. The last team to trade a truck load of talent for a single, three month rental was this very franchise, who traded (among others), Grady Sizemore and Cliff Lee for Bartolo Colon. I think MLB GM's saw how a single trade could decimate a team for years, and just won't make those type of deals any more. Can you imagine how good this team would be if Omar Minaya had simply not made any trades and kept his prospects? Add Sizemore, Young, Cliff Lee and Jason Bay to this team and you're talking about a pretty good to very good team.
Post a Comment
Links to this post:
<< Home