I HATE BLOGGER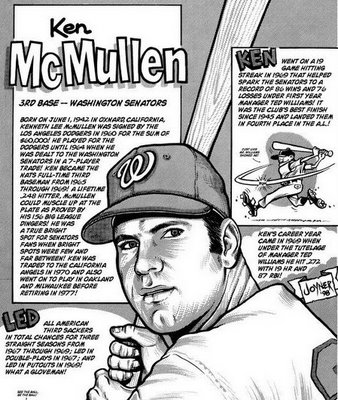 [July 11th] -- I had just spent 45 minutes writing a story about the "re-renovation" of RFK stadium, and, once satisfied with the effort, I moused over and pushed "publish."
Except I missed and pushed the "discard" button instead. Blogger doesn't give you one of those
"Hey idiot, you're going to lose all your work, do you really want to do this?"
boxes. It just goes bye-bye.
I just started a four-week biology class (five hours a day, four days a week), and I just don't have time (or the inclination) to re-write it. So enjoy this art I found about Washington's best expansion third-baseman, Kenny McMullen. Next to Frank Howard, he's my favorite Senator.
I'll catch you mid-afternoon, that is, if the biology class doesn't freak me out. They promised me no dead frogs, but you just never know ....

Comments:
I feel your pain, man! Why do these varioius software developers insist on putting all these butttons so close to each other. Why not put a full inch of white space between each one, to minimize the chance of accidently clicking the wrong place? How many times have I tried to "maximize" a window in Windows, for example, only to hit the little "X" and close the application (usually a browser window) instead? And I've also lost some long pieces of writing that way too.
I'm with you. I mean, it wasn't MY fault that I pushed the wrong button, right? So I have to blame someone else!
Post a Comment
Links to this post:
<< Home