NATS HANG ON FOR 8-6 WIN
[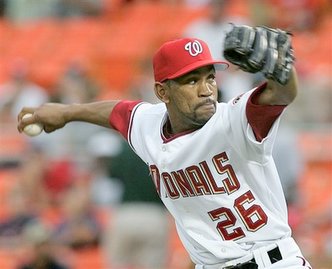 [July 26th] -- They have won four in a row, and five out of six. The Nationals should be
buyers
, not sellers. What would it cost us to get Carlos Lee?
Nah, just kidding.
A few thoughts that are hanging on the periphery of Tuesday's 8-6 win over the San Francisco Giants:
1. Jim Bowden has said several times since demoting
Ryan Church
for the second time that he was, in essence, out of both chances and opportunities with the Washington Nationals. He hits a Bonds-eque upper deck two-run home run on Sunday, and follows up that performance with a two hit, three RBI effort against the Giants on Tuesday. That places Bowden in a conundrum. He's already said that Church is persona non grata around RFK and it's very likely that he's only playing now so he can be showcased and traded. If he
is
traded, how will Bowden explain to the Nationals' fans that he wouldn't keep the team's 3rd best outfielder (assuming Soriano is since traded) simply because he didn't like him? An outfield of Church, Austin Kearns and Alex Escobar / Luis Matos is very solid. I say keep him. He's Grady Sizemore with a bible.
2.
Ramon Ortiz
is
consistent. He consistently gives up five runs per game. He has no real trade value and won't be back next year, so why keep throwing him out there? I'm guessing that at every level of the Nationals' minor league system are any number of pitchers,
young pitchers,
who are able to give up five runs per game fairly easily. Don't get me wrong. Signing Ortiz was a good try on Bowden's part. Of the affordable pitchers on the scrap heap last spring, I thought Ortiz and Josh Fogg were the two best gambles to be the next Esteban Loiaza. So he wasn't. Heck,
Esteban Loiaza
wasn't the next Esteban Loiaza this year.
3.
Felipe Lopez
got two more hits, his third straight two-hit game, and now has a batting average higher than the one he came with two weeks ago.
That's good.
What's bad was his throw in the 9th inning. It was obvious by his foot placement that the ball was going to be wild before he started to make his throw. Reds' fans warned us about his defense. He get's to every ball, but only gets 95% of them to first. That said, it was
Nick Johnson
who was charged with the error. The point it, a good throw would have made the bad catch moot.
4. The Nationals' offense continues to gel, which makes the team's pitching woes seem that much worse. With last year's pitching staff, and this year's offense, this is a 93 win team. Just thought I'd make you feel bad.
Did it work?
So, the Soriano sweepstakes continues. Remember all that "extremely close" stuff we heard on Monday?
Yeah, right.
That's one thing I've learned over the years: the more "certain" the trade, the less likely it'll happen. Last year's Soriano-Wilkerson trade rumors hit the internet about two hours before it actually happened. I don't recall many trades that really happened being bandied about in the press for days or weeks before hand. Nope, we'll wake up one of these mornings and Soriano will be a Royal or a Pirate, and we'll never have seen it coming.
But then, we wouldn't have had anything to talk about, right?
[
Second baseman Jose Vidro has joined Jose Guillen on the disabled list, and, just like Guillen, has no trade value whatsoever. Both players could have each brought a couple of "decent" prospects, but no more. Guillen is gone, and Vidro remains, and both scenarios are equally bad.
Since last fall when the Nationals signed Bernie Castro to a minor league contract, I've been saying that he has the ability to play second base in the major leagues on an every-day basis. He immediately becomes the fastest player on the team. He's hit at every level of the minor leagues, and has a career .288 batting average in both the major and minor leagues. He got a September call-up with the Orioles last year and batted .288 with 6 stolen bases.
I really think he'll show that he can play at this level, and who knows, perhaps next year, it'll be Castro at second and not Vidro.
Comments:
As I have said on many occasions and again tonight in Section320, Ryan Church is a talented, talented player and Jim Bowden would show how foolish he is by trading away, and most likely, just giving Ryan away, just to make Jimbo look good in a flashy trade. Church can help this team, his power numbers are outstanding for the little bit of playing time he has received. He's been injured and sick at times, its not about his ability. Its about the NATS screwing with his mental makeup. Bowden handling of Church is my biggest pet peeve on how Jimbo is a bad GM!! That and always trading away pitching depth.
Post a Comment
Links to this post:
<< Home